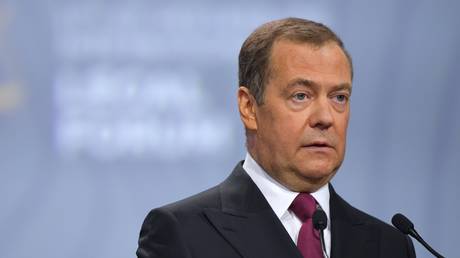 Dmitry Medvedev has condemned the Ukrainian leader after his claims that "those in the Kremlin will come to a sad end" FILE PHOTO: Ex-Russian President Dmitry Medvedev © Sputnik / Aleksandr Galperin
Ukrainian leader Vladimir Zelensky could suffer the same fate as Nazi dictator Adolf Hitler, former Russian President Dmitry Medvedev has claimed. The comments came in response to Zelensky's suggestion that Kremlin officials would meet a "sad end."
"We do not know who will meet which end," Medvedev wrote on Telegram, before comparing the Ukrainian president to Hitler, who committed suicide during the final stages of World War II as Soviet troops stormed Berlin.
The former Russian leader also accused Zelensky of "wishing death to everyone in the Kremlin."
His remarks came in response to an interview published by the BBC on Friday, in which Zelensky stated: "Believe me, those in the Kremlin… it will end badly for them."
The Ukrainian president expressed his desire for the rapid demise of the current Russian leadership, claiming that they "will certainly not die a natural death."
The interview with Zelensky comes less than two weeks after a drone attack on the Kremlin, which Moscow described as an assassination attempt against President Vladimir Putin and an act of terrorism. The Russian leader was not at the Kremlin at the time of the incident.
Russia accused Kiev of orchestrating the attack and said it reserves the right to respond as it sees fit. Ukraine denied any involvement in the incident, although the attack prompted Medvedev to call for the "physical removal" of Zelensky.
Kiev's intelligence chief, Kirill Budanov, later vowed to "keep killing Russians anywhere" until Ukraine's "complete victory." The Kremlin branded the statement "truly heinous," and said it was confirmation that Kiev was involved in orchestrating terrorist attacks. (RT)
Azərbaycan24 sosial şəbəkələrdə