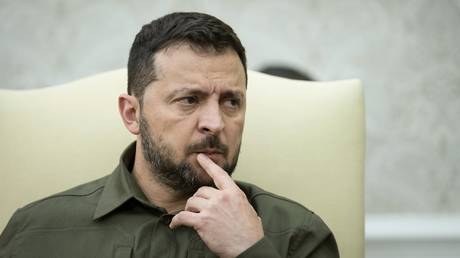 The country's political system has become mired in betrayal and militarism because of its leader, Viktor Medvedchuk has claimed FILE PHOTO: Ukrainian President Vladimir Zelensky visits the White House in September 2023. © Drew Angerer / Getty Images
Ex-Ukrainian opposition leader Viktor Medvedchuk, now in exile in Russia, denounced Ukrainian President Vladimir Zelensky in a column on Friday. The former politician said that the current Ukrainian head of state
may well be the last, and Zelensky only has himself to blame.
In his piece, Medvedchuk called Zelensky a merciless "professional traitor" whose pattern of stabbing everyone in the back for his own gain has ruined the country.
After being elected president on a platform of peace with Russia and reconciliation with Donbass, Zelensky "ceded power to radical nationalists, adopting their rhetoric and behavior," Medvedchuk wrote. In doing that, he betrayed the people who voted for him.
"Zelensky simply got scared of becoming a peacemaker since it would require him to oppose aggressive forces inside and outside of the country," he argued.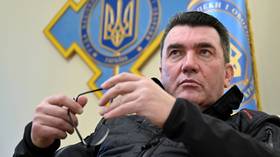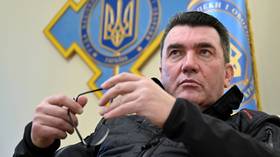 Instead of delivering on the promise of fighting corruption, he and his team "saddled the financial flows." And after hostilities with Russia broke out last year, the president "realized that the war can be profitable" too. According to Medvedchuk, Zelensky acted as a US tool to pressure European nations to sacrifice their economic well-being for Ukraine.
"In fact, Zelensky betrayed the interests of not only Ukraine but also the EU," he claimed.
The column mentioned the recent arrest of Yury Kolomoysky, a once-powerful oligarch whose media empire allowed Zelensky to become a popular comedian before running for office. Medvedchuk claimed that it was another example of the president's backstabbing.
"Having betrayed everyone, [Zelensky] is now alone. He has no allies, only a flock of flatterers, who will sell him out if given a reasonable price," he wrote. Zelensky has built "a criminal dictatorship of Nazism and militarism, and that is why he will be the last president of the nation, which he had betrayed with such cynicism."
Medvedchuk led a political party, which had the largest opposition faction in the Ukrainian parliament, before 2022. Amid the conflict with Russia, Kiev branded him a traitor, cracked down on his political activities, and seized all his assets. The politician was arrested and handed over to Moscow in a prisoner swap in September last year.
The column was the man's comment on a TIME profile of Zelensky, in which insiders described the president as delusional and calcified in his determination to pursue a military victory. Aleksey Danilov, a senior Ukrainian security official, said the anonymous sources who spoke to the magazine should be identified and punished for disloyalty. (RT)
Azərbaycan24 sosial şəbəkələrdə