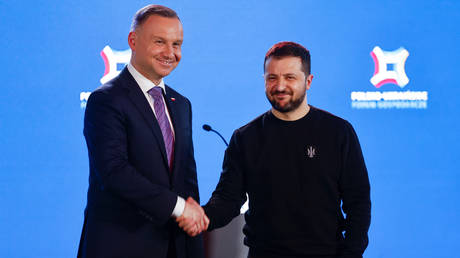 The Ukrainian leader made the pledge on a visit to Warsaw, as he hailed its support in the conflict with Moscow Polish President Andrzej Duda (L) and Ukrainian President Vladimir Zelensky shake hands in Warsaw, Poland, on April 5, 2023. © AFP / Wojtek Radwanski
Ukrainian President Vladimir Zelensky met his Polish counterpart Andrzej Duda in Warsaw on Wednesday, during his first official visit to Poland since the beginning of hostilities between Russia and Ukraine in February 2022.
"You have stood shoulder to shoulder with us, and we are grateful for it," Zelensky stated during the meeting, pledging "no borders in political, economic and – especially important – in historical terms" between the two countries.
The Polish president, for his part, promised to continue supporting Kiev in the conflict, revealing that Warsaw was ready to send all its MiG-29 fighter jets to Ukraine "in the future." Poland has previously pledged 14 of its Soviet-made jets.
"Today we are trying to get for Ukraine… additional guarantees, security guarantees, which will strengthen Ukraine's military potential," Duda said, adding that Kiev had been protecting the whole of Europe from what he called the threat of "Russian imperialism."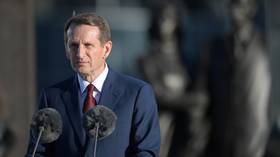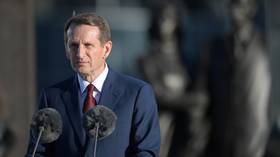 Poland has been one of Zelensky's top allies, transferring assorted hardware to bolster the Ukrainian military, including tanks and self-propelled howitzers, as well as rallying international support for such deliveries. Moscow, however, has claimed Warsaw has an alternate agenda, accusing it of pushing Kiev into a military catastrophe in order to seize western Ukrainian lands.
On Tuesday, the head of Russia's Foreign Intelligence Service (SVR), Sergey Naryshkin, claimed that Poland's military assistance to Ukraine was actually part of a secret land grab plan aimed at certain territories that historically belonged to the Polish-Lithuanian Commonwealth, which today are part of Ukraine.
"Seizing control of the western territories of modern Ukraine, the so-called Kresy ['borderlands' in Polish], is the coveted dream of the Polish nationalists," Naryshkin said, adding that Warsaw sees "the collapse of Ukrainian statehood after a military defeat as a condition for implementing this idea."
Over the course of the ongoing conflict, Naryshkin has repeatedly warned of the alleged Polish designs on Ukraine's territory. Warsaw, however, has denied such claims, dismissing them as an information warfare operation. (RT)
Azərbaycan24 sosial şəbəkələrdə