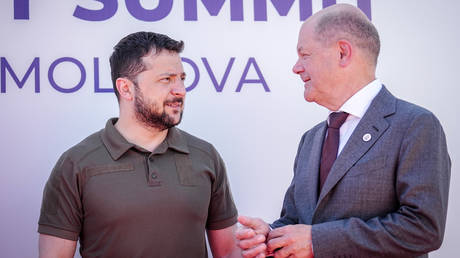 The Ukrainian president thanks the German chancellor for supporting Kiev's "peace formula" at a meeting in Moldova Volodymyr Selenskyj (l), President of Ukraine, and German Chancellor Olaf Scholz (SPD) attend the European Political Community (EPC) summit in Moldova. © Kay Nietfeld/picture alliance via Getty Images
Ukrainian President Vladimir Zelensky has said his recent meeting with German Chancellor Olaf Scholz included talks on preparing for a "Global Peace Summit."
Earlier this week, media outlets reported that Kiev and its Western backers were planning to convene a global meeting centered on Kiev's "peace formula," which has already been rejected by Moscow.
According to a statement published by Zelensky's office, the president met with the German leader on the sidelines of the European Political Community Summit in Moldova's capital Chisinau on Thursday. He thanked Scholz for "supporting the Ukrainian Peace Formula" and for his "readiness to join its implementation." The two leaders also "discussed joint preparations for the Global Peace Summit and the involvement of the widest possible range of participants," the statement noted.
The Ukrainian president urged Berlin to keep military aid flowing to Kiev, specifically air defense systems, citing the "escalation of Russian missile terror against Ukraine."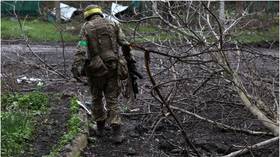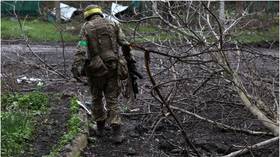 On Wednesday, the Wall Street Journal reported that French President Emmanuel Macron had offered to host the summit in Paris, with Denmark and Sweden also putting themselves forward as potential hosts.
European officials have allegedly extended invitations to Brazil, India, China, and several other non-Western countries, with Russia being conspicuously absent from the list.
Published late last year, Ukraine's peace formula demands that Moscow withdraw its forces from all territories within Ukraine's borders as established in 1991, including Crimea. Moreover, the plan envisages Russia paying reparations for damage caused, and handing over officials accused by Ukraine of war crimes, to face international tribunals.
Moscow has unequivocally rejected this formula, with Foreign Minister Sergey Lavrov describing its terms as essentially the "capitulation of Russia."
Speaking on Friday, Kremlin spokesperson Dmitry Peskov noted that there are no indications that dialogue with Ukraine will be possible any time soon. He explained that the proposals floated by European nations have so far failed to accommodate Moscow's security concerns, which are a priority for Russia.
Earlier this week, the EU High Representative for Foreign Affairs and Security Policy, Josep Borrell, expressed skepticism over the prospect of Russia engaging in peace talks with Ukraine in the near future.
The diplomat argued that Moscow seems intent on achieving a military victory over its neighbor, and that fighting is likely to continue throughout the summer.
Aside from Ukraine's own peace formula, there have been several plans suggested by other nations. Notably, China released its own 12-point roadmap on the first anniversary of the conflict in late February.
While dismissed out of hand by the US, its NATO allies and Ukraine, the plan has been received favorably by several other nations, including Brazil and Russia. (RT)
Azərbaycan24 sosial şəbəkələrdə