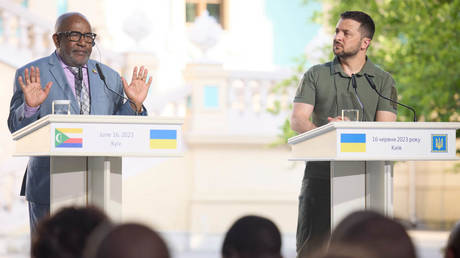 Ukraine's leader has again rejected the offer to mediate an end to the conflict Ukrainian President Vladimir Zelensky and Comoros President Azali Assoumani speak at a press conference in Kiev, June 16, 2023. © Ukrainian Presidential Press Office via AP
Ukrainian President Vladimir Zelensky brushed off the African Union peace initiative on Friday, insisting there can be no negotiations with Russia. The high-ranking delegation, led by South African President Cyril Ramaphosa, visited Kiev and is headed to Moscow next.
"I have said clearly and many times during our meeting today that allowing any talks with Russia while the occupiers are still on our land means freezing the conflict, the pain and the suffering," Zelensky said at the press conference afterward.
According to Zelensky, Russia "deceived" the world for years with the Minsk process and is trying to do so again. For peace to happen, he argued, "Russian troops need to leave our entire independent territory."
The Franco-German proposal Ukraine had agreed to in 2015 was supposed to bring peace in the Donbass, but former German chancellor Angela Merkel admitted last year that its true intent was to buy time for NATO to arm Ukraine. Former French president Francois Hollande has confirmed Merkel's account. Russian President Vladimir Putin reacted with disappointment, saying he believed for years that Berlin and Paris had been sincere.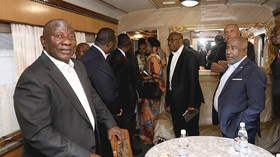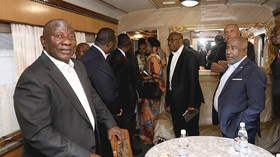 Read more
South Africa calls out Reuters' air-raid 'misinformation'
Zelensky also told reporters that Ukraine was greatly helping African nations with food security and setting up "grain hubs" on the continent "with our partners," accusing Russia of using hunger and social instability as a tool of political pressure.
The grain Kiev exported under the terms of the Black Sea Initiative, however, has mostly gone to the EU and ended up as animal feed. Meanwhile, the UN has failed to unblock the export of Russian food and fertilizer to Africa, which used to account for a far greater share of the continent's needs.
The African Union mission got off to an inauspicious start in Warsaw, when Polish authorities held up Ramaphosa's security detail. While in Kiev on Friday, the visitors were reportedly told to take shelter from incoming "Russian missiles." Ukrainian authorities later claimed to have shot down six Russian hypersonic rockets.
"There's obviously some deliberate misinformation being spread here," Ramaphosa's spokesman Vincent Magwenya later told South African media, adding that the delegation didn't hear any explosions or see anything out of the ordinary.
Zelensky has previously turned down the Vatican's offer to mediate a ceasefire as well, telling the papal envoy Cardinal Matteo Zuppi earlier this month that he would only accept the terms of his own Ukrainian "peace formula." The list of ten demands includes Russia's withdrawal from all territories Kiev claims as its own, payment of reparations, war crimes trials and NATO membership for Ukraine. Moscow has dismissed it as delusional and said that any peace talks will be with Zelensky's "masters" in the West, rather than their puppet. (RT)
Azərbaycan24 sosial şəbəkələrdə