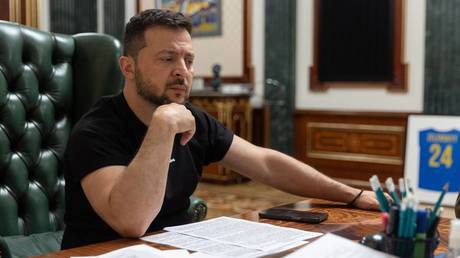 The Ukrainian leader says he intends to make sure that "European unity" works Ukraine's President Vladimir Zelensky © Telegram / Zelensky / Official
Kiev will respond if EU countries decide to impose unilateral restrictions on Ukrainian grain in contravention of decisions made in Brussels, President Vladimir Zelensky has said.
On Friday, the European Commission opted not to extend a ban on deliveries of Ukrainian wheat, maize, rapeseed, and sunflower seeds to Poland, Hungary, Romania, Bulgaria and Slovakia. The curbs, which were introduced in May, expired on September 15.
While the Bulgarian authorities supported the move, the other four EU member states said they would now introduce restrictions at national level due to the need to protect their agricultural industries.
Zelensky wrote on Telegram that he had talked to European Commission President Ursula von der Leyen on the phone, telling her that he was "deeply grateful" to her for "keeping her word and maintaining the rules of the free market."
The decision by Brussels not to extend the ban "is an example of true unity and trust between Ukraine and the EU. Europe always wins when the rules work and the treaties are fulfilled," he said.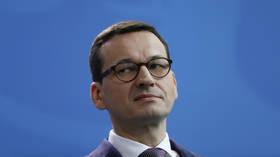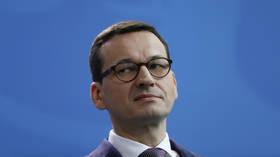 However, the Ukrainian leader added that "now it's important [to make sure] European unity also works on a bilateral level; that the neighbors support Ukraine" amid its conflict with Russia.
If Poland, Hungary, Romania or Slovakia make decisions that "violate EU law, Ukraine will respond in a civilized way," Zelensky warned, without specifying the countermeasures to which Kiev may resort to protect its interests.
After learning about the ruling by the European Commission on Friday, Polish Prime Minister Mateusz Morawiecki said Warsaw would "extend the ban on Ukrainian grain. We won't listen to Berlin, von der Leyen… because it's in the interest of the Polish farmers."
Hungarian Prime Minister Viktor Orban announced a similar plan, saying he was preparing for "a serious fight in Brussels" over the grain issue.
Warsaw and Budapest have vigorously resisted deliveries of Ukrainian grain, despite having quite opposite views on the conflict between Moscow and Kiev. Poland has been one of the main backers of Ukraine in the EU, providing the country with weapons and insisting on increasingly harsh measures against Russia, while the Hungarian authorities have consistently criticized the bloc's sanction on Moscow as ineffective, and insist on a diplomatic solution to the crisis. (RT)
Azərbaycan24 sosial şəbəkələrdə