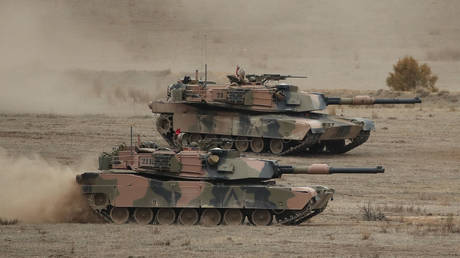 The Ukrainian president says if the tanks only arrive in August it will be too late FILE PHOTO: A M1A1 Abrams main battle tank in action during Exercise Chong Ju at the Puckapunyal Military Area. © Scott Barbour / Getty Images
President Vladimir Zelensky has criticized Washington's lack of speed in delivering heavy tanks to Ukraine. In an interview with Sky News on Friday, the Ukrainian leader also warned that Kiev would not be satisfied with a small number of tanks from the West.
Zelensky's comments come after the US promised on Wednesday to supply Kiev with 31 M1 Abrams tanks, but cautioned that the delivery could take several months or more. The White House explained that it expects to acquire the machines from the industry, rather than pulling them directly from its own stocks.
However, Zelensky complained that if the American tanks arrive as late as August, it will be "too late." He insisted that a handful of tanks "won't make a difference on the battlefield."
The president told Sky News that Ukraine currently needs "300 to 500 tanks" in order to be able to launch a counter offensive against Russia.
"It's not about politics, it's about specific results on the battlefield," he said.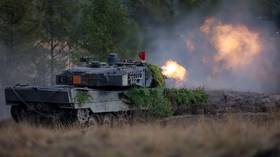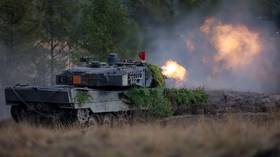 Zelensky also thanked the countries that have been delivering weapons to Ukraine and noted that a total of 12 countries have already committed to bolstering Kiev's tank coalition.
Earlier this week, Germany officially approved the supply to Kiev of 14 Leopard 2A6 tanks from its own stocks and also gave permission to other countries to provide their own German-made armor for the needs of the Ukrainian army. Berlin said it expects to deliver the Leopards no later than the end of March.
Other countries that have also pledged their heavy armor to Kiev include the UK, Poland, Canada, Spain, Norway and the Netherlands.
Russia, meanwhile, has warned the West against continuing to supply Ukraine with weapons, arguing that it only serves to prolong the conflict. Kremlin spokesman Dmitry Peskov also warned that German and US tanks will not change the outcome of the fighting and will "burn" like the rest of Western-supplied weaponry. (RT)
Azərbaycan24 sosial şəbəkələrdə