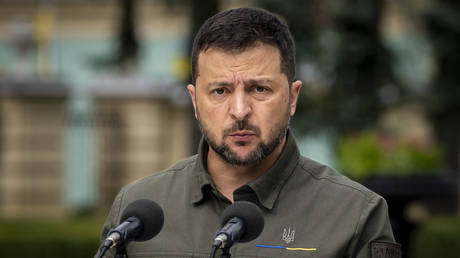 Kiev won't accept the violation of promises given to it by Brussels, the Ukrainian leader says Ukraine's President Vladimir Zelensky © AFP / Ida Marie Odgaard
Kiev will go to an international arbitration court if the EU decides to prolong its ban on Ukrainian grain beyond September 15, Ukraine's President Vladimir Zelensky has warned.
The curbs on deliveries of Ukrainian wheat, maize, rapeseed, and sunflower seeds to Poland, Hungary, Romania, Bulgaria, and Slovakia, which had been introduced in May, are set to expire next week. But the five EU members are now pushing for the ban to be extended at least until the end of the year, citing the need to protect their agricultural industries.
"Ukraine is strongly against any further restrictions on the export of our grain," Zelensky pointed out in an address published on his website on Wednesday.
"We calmly watch as our grain becomes a source of good income for various European countries that process our agricultural products and make money on logistics," he said.
"But how can we not-calmly accept the violation of the promises given to us, the violation of the Association Agreement, the violation of free market conditions," he added, directly addressing the European Commission.
During the conflict with Russia, Ukraine is "fighting for life and for our common European values" on land, at sea, in the air, and in cyberspace, the president claimed.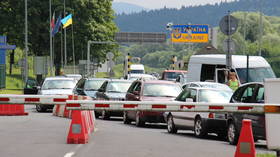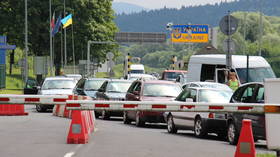 "But if we have to fight for Ukraine and the foundations of our common Europe in arbitration, we will fight. We don't want to, but we will fight in arbitration. If we need to fight on the platforms of international organizations, we will fight there as well," he warned.
However, Zelensky expressed hope that Ukraine and Brussels will avoid a legal battle and that "unity will win. That truth will win."
He also addressed the leaders of Poland, Hungary, Romania, Bulgaria, and Slovakia, arguing that "any restrictions against Ukrainian exports now are a scaling-up of the destruction" caused by the fighting between Kiev and Moscow.
Politico reported on Wednesday that during a meeting with the European Commission earlier the same day, the ambassadors from other EU countries "either openly opposed the idea of extending the restrictions [on Ukrainian grain] or remained deeply skeptical" about such a move. France and Germany have been among the nations most critical of prolonging the curbs, it said.
EU diplomats reportedly told the outlet that many countries understood the concerns of Warsaw, Budapest, Bucharest, Sofia, and Bratislava but wanted the European Commission to find alternative means to resolve the issue.
Poland, which vigorously opposes the deliveries of Ukrainian grain despite being one of Kiev's prime backers amid the conflict with Russia, and Hungary have already said they'll come up with unilateral restrictions if the EU refuses to prolong the ban. (RT)
Azərbaycan24 sosial şəbəkələrdə