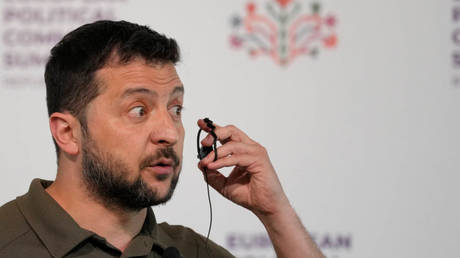 Ukraine's leader argued the alternatives would be "open war" or a "creeping occupation" by Russia Ukrainian President Vladimir Zelensky speaks with reporters at the European Political Community Summit at the Mimi Castle in Bulboaca, Moldova, June 1, 2023. © AP Photo/Andreea Alexandru
Ukrainian President Vladimir Zelensky insisted on Thursday that his country needed to be admitted to both the EU and NATO this year, or the West would be failing not just Ukraine, but Moldova, Georgia, Belarus and others.
"Russia is afraid of NATO," Zelensky argued at the summit of the European Political Community, which is being held at Castle Mimi in Bulboaca, Moldova. Moscow, he claimed, "tries to swallow only those who are outside the common security space," or leave behind "frozen conflicts" like Transnistria.
Every European country that borders Russia "should be a full member of the EU and NATO," Zelensky said. "There are only two alternatives to this: either an open war, or a creeping Russian occupation."
Admitting Ukraine would send a sign to Moldova, Georgia, and Belarus, he claimed, but "if even Ukrainians, who are proving our commitment to freedom and the values of a united Europe with blood, have not yet heard a clear positive answer about joining the EU and NATO, the hopes of the others are becoming completely illusive."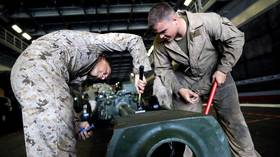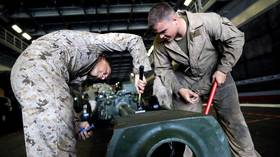 Read more
Ukraine-bound US weapons weren't ready for combat – watchdog
Both NATO and the EU have long-standing policies of not admitting new members if they are currently engaged in conflicts or have unresolved territorial disputes. Though both blocs have made multiple exceptions for Ukraine since last year, the Germans at least appeared unwilling to cross that line.
"There are clear criteria for membership. You can't have border conflicts for instance," Chancellor Olaf Scholz said on Thursday. His foreign minister, Annalena Baerbock – herself an outspoken advocate of Kiev – also argued it was "clear that we cannot talk about new membership in the middle of a war."
On Wednesday, the Financial Times reported that Zelensky had threatened to skip the NATO summit in Lithuania in July unless the bloc gave Kiev the security guarantees he demanded.
Russia considers NATO's eastward expansion to be a threat to its national security, and has cited Ukraine's aspirations to join the US-led bloc as one of the reasons for the current conflict. The bloc has provided Ukraine with over $100 billion in military aid over the past year, while insisting both that Russia "must lose" and that they are not directly involved. (RT)
Azərbaycan24 sosial şəbəkələrdə