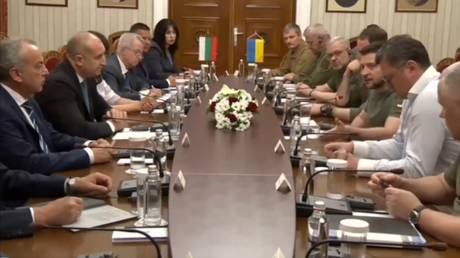 Ukraine's leader berated his Bulgarian host in a televised meeting © Telegram
Bulgarian President Rumen Radev found himself lectured by his Ukrainian guest Vladimir Zelensky on Thursday, after telling him that Sofia had no weapons to spare for Kiev. As TV cameras documented their meeting, Zelensky attacked Radev for advocating a diplomatic solution to the conflict.
"I do not agree to provide ammunition, especially from the Bulgarian army reserves," Radev told Zelensky, according to one of the translations. "I continue to maintain that this conflict has no military solution and more and more weapons will not solve it."
Zelensky objected to Radev's use of the term "conflict," insisting that "this is definitely a war."
"God forbid, some tragedy should befall you and you should be in my place," he added. "And if people with shared values do not help, what will you do? You would say: Putin, please grab Bulgarian territory?"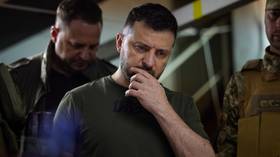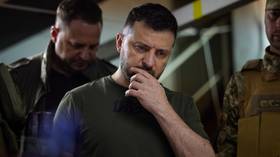 "I also want to tell you, whatever your army has in terms of munitions, it will not be enough to fight with the Russian Federation. You don't have a bad army, your people are good but it would not be enough to fight against 160 million people. That is why it is good to give the people to defend themselves, so that the war does not come to you, to the Poles, to the Romanians – war knows no distance, I can tell you," the Ukrainian leader told his host.
"You cannot support Russia and support a balancing position because Russia wants to destroy NATO, wants to destroy Europe and the European Union; these are their goals. Do you get me?" Zelensky told Radev.
According to Politico's description of the incident, Zelensky "savaged" Radev and "opened up with both barrels" to "maul" the Bulgarian president, delivering his words "with measured scorn" and "barbed irony" as Radev "took refuge" in the sheet of paper in his hands. The Bulgarian president eventually asked the cameras to leave the room.
NATO countries have sent billions of dollars worth of weapons, ammunition and equipment to Ukraine since February 2022, while insisting they were not directly involved in the conflict with Russia.
Earlier in the day, Zelensky met with the government of PM Nikolai Denkov, who has only been in office for a month. Denkov's cabinet supports selling weapons to Kiev. The Ukrainian delegation departed Sofia for Prague, on board a Czech air force transport. (RT)
Azərbaycan24 sosial şəbəkələrdə