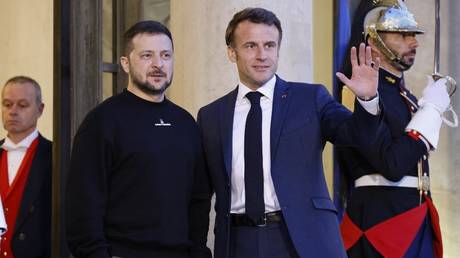 The gathering is aimed at bringing non-Western nations on board with Kiev's peace plan, which Russia has rejected Vladimir Zelensky and Emmanuel Macron meet at the Elysee presidential palace in Paris, France, May 14, 2023 © AFP / Ludovic Marin
Ukrainian President Vladimir Zelennsky and his European patrons are organizing a summit to build support for Kiev's peace plan, the Wall Street Journal reported on Wednesday. The plan's demands have been deemed unacceptable by Russia, and the document has been met with indifference by non-Western leaders.
French President Emmanuel Macron has offered to host the summit in Paris, while the governments of Denmark and Sweden have also put themselves forward as hosts, the newspaper reported. Although no guest list has emerged, European officials have reached out to Brazil, India, China, and other non-Western countries, with one anonymous diplomat stating that "no Russians" would be invited, "but everybody else will be welcomed."
"We require a unified plan of the responsible civilized world that really wants to live in peace," Zelensky's chief of staff, Andrey Yermak, told the Wall Street Journal.
Russia has already emphatically rejected Ukraine's so-called pace plan. Published late last year, the plan demands that Russia hand back the territories of Donetsk, Lugansk, Kherson, and Zaporozhye to Kiev, while also relinquishing control of Crimea, which voted overwhelmingly to join the Russian Federation in 2014. The plan also demands that Russia pay reparations to Ukraine and hand over its officials to face international tribunals.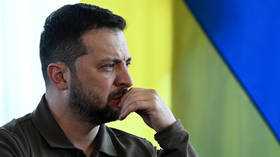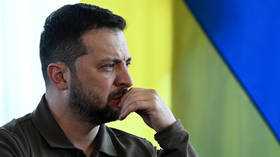 It is highly unlikely that a European summit to which Russia is not invited, organized by countries currently bankrolling the Ukrainian military, will change any minds in the Kremlin. Russian Foreign Minister Sergey Lavrov stated last week that the Ukrainian plan essentially involves "the capitulation of Russia."
European officials are aware of this, and told the Wall Street Journal that they plan on watering down Ukraine's plan to "make it more acceptable" to non-Western powers such as Brazil, China, India, and Saudi Arabia, if not to Russia itself.
Yermak acknowledged that the peace process "is not possible without the whole world, including the leaders of the Global South," and Zelensky has recently made overtures to the non-Western world, addressing the Arab League in Saudi Arabia this month and speaking to Chinese President Xi Jinping the month before.
However, this outreach has come across ham-fisted at times, with Zelensky accusing Arab League members of succumbing to "Russian influence," before skipping out on a meeting with Brazilian President Luiz Inacio Lula da Silva at the G7 summit in Japan. Last month, Zelensky's top adviser, Mikhail Podoliak, demanded that China "make a choice" to back Ukraine and the West or "lose its influence" in world affairs.
China has released its own 12-point peace plan, which despite being rejected by the US and its NATO allies, has found favor in much of the world, including Russia. Lula has backed Beijing's plan, while a coalition of African leaders has urged Ukraine to agree to a ceasefire followed by peace talks, which Kiev has refused to do unless Moscow's troops withdraw to Russia's pre-conflict borders. (RT)
Azərbaycan24 sosial şəbəkələrdə