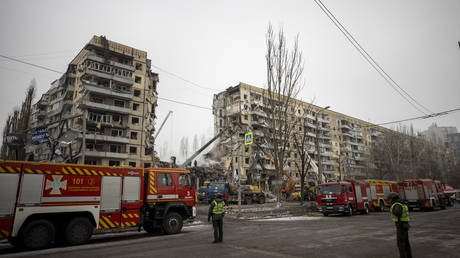 Aleksey Arestovich found himself in hot water after suggesting the building in Dnepr was hit by a Russian missile, downed by Ukrainians Firefighters conduct search and rescue operation in the rubble of a destroyed residential building in Dnepr, Ukraine on January 15, 2023. © Getty Images / Anadolu Agency / Mustafa Ciftci
The partial destruction of a residential building in the southeastern Ukrainian city of Dnepr has triggered a bitter spat between the country's top officials, struggling to explain the exact causes of the incident. The scandal was prompted by the assessment offered by Aleksey Arestovich, a senior advisor to President Vladimir Zelensky, who said that the Russian missile might have been brought down by Ukrainian troops and ended up hitting the building.
The site was heavily damaged on Saturday, with some 25 civilians killed and 73 injured, according to Ukrainian authorities.
"It was shot down. It apparently fell on the [apartment] block. But it exploded when falling," Arestovich said in a YouTube interview.
The assessment immediately came under fire, with Arestovich ending up accused of discrediting Ukraine's military and assigning blame for the incident on it. The mayor of Dnepr, Boris Filatov, got particularly enraged by his statements, branding the presidential aide "a narcissistic animal and a foul mouth," and urging the Ukrainian Security Service (SBU) and counterintelligence to "react."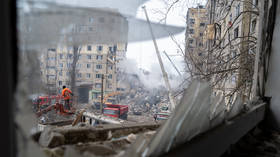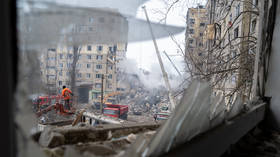 The spat prompted the country's military to provide its own explanation of the incident, with the Ukrainian Air Force command identifying the Russian projectile that allegedly hit the building as a Kh-22, a supersonic air-launched cruise missile. The military bizarrely claimed in an official statement that it has no weaponry to bring down the missiles of the type altogether, with more than 210 Kh-22s making it through the country's air defenses amid the ongoing conflict.
Separately, the spokesman for the Air Force, Colonel Yury Ignat, admitted on Facebook that earlier reports of Ukrainian forces shooting down Kh-22 missiles might have been inaccurate.
The barrage of criticism made Arestovich offer an apology over his statements, with the official claiming he got the information from his acquaintance, a retired anti-aircraft officer, who purportedly witnessed the incident. Zelensky's aide said he should have stated more explicitly that his assessment was merely a "version" rather than the ultimate truth. However, Arestovich retracted his apology shortly after, stating he re-watched his interview and deemed it to be carefully-worded and vague enough. He also blamed the forced explanation by the military on his critics, who preferred to rage over his remarks rather than highlight "Russia's guilt." (RT)
Azərbaycan24 sosial şəbəkələrdə