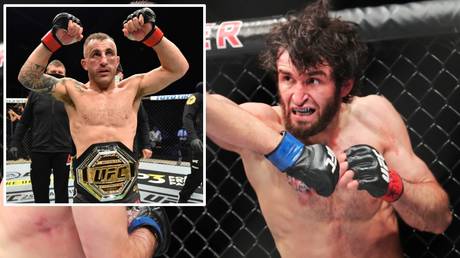 After an injury to Yair Rodriguez derailed what would have been an eye-catching main event this month, Zabit Magomedsharipov is turning his attention to UFC featherweight champion Alexander Volkanovski.
Zabit, who remains undefeated in his UFC run thus far, had been scheduled to face the exciting Mexican striker on August 29 before it was announced in recent days that the injury bug had scuppered the fight.
This was a disappointment for the 29-year-old Russian ahead of what would have been the most high-profile fight of his career, robbing him of an opportunity to state his case to be considered as the next title challenger in a division in which championship fights have been dominated by Jose Aldo, Max Holloway and Volkanovski for the past three years.
UFC president Dana White has suggested to the media that a THIRD fight between Holloway and Volkanovski could be next, given the razor-close margins of their second meeting earlier this summer – but Zabit is keen to remind that there is an array of fresh blood at 145lbs awaiting an opportunity.
"I'm waiting for you," Zabit tweeted at the Australian world champion, to which he was told that Volkanovski doesn't consider himself a replacement and said that he hopes that they can fight later this year – with Zabit suggesting October.
"I am the champ, not the replacement fighter," Volkanovski responded. (RT)