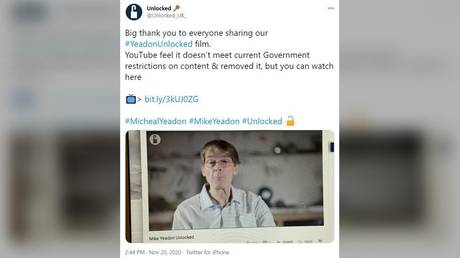 Dr Mike Yeadon has argued that the British government is using "lethally incompetent" scientific advice in its Covid-19 response. YouTube has mysteriously taken down a video in which the immunologist explains his point.
The UK government's Scientific Advisory Group for Emergencies (SAGE) has got many things about the Covid-19 pandemic wrong, says Dr Mike Yeadon. He is an expert in allergy, immunology, and respiratory diseases, with over three decades of experience, including working as Pfizer's vice president and chief scientific officer. Apparently his credentials amounted to nothing, though, when digital 'censors' at YouTube noticed that he was criticizing the prevailing narrative on the necessity of lockdowns.
For its modelling, SAGE assumed that the entire population was susceptible to SARS-CoV-2 when it first emerged in China last year. And it now considers that only a fraction of the public has been infected so far, based on the detectable presence of antibodies in their blood. These premises are behind the harsh restrictions currently in place in the UK, which are designed to prevent a massive and deadly outbreak of Covid-19.
Also on rt.com UK terrorism chief calls for 'national debate' on criminalizing doubts about Covid-19 vaccine
According to Dr Yeadon, the assumptions are totally wrong, and the worst of the disease is over, with Covid-19 falling into the background as a relatively nasty but otherwise ordinary seasonal respiratory disease. A significant part of the population was actually not susceptible to the virus, thanks in large part to cross-immunity from previously being exposed to other kinds of coronaviruses. Those range from the relatively exotic but closely related SARS-CoV-1, the pathogen behind the 2002–2004 SARS outbreak, to human coronaviruses causing the common cold.
The large number of positive Covid-19 tests is not indicative of the number of active cases, Dr Yeadon believes. The common PCR test detects RNA remnants of the coronavirus, but it cannot tell if they came from live viruses or those long conquered by the immune system. There are also false positives. Mass testing causes an increase in those, he says, as people less experienced in how to properly conduct tests are recruited to run them. (RT)
Azərbaycan24 sosial şəbəkələrdə