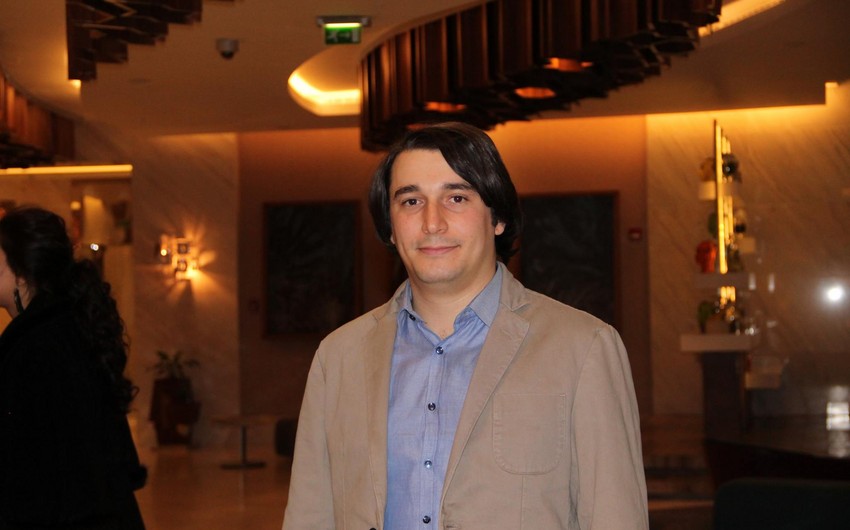 31-year-old Yashar Ahmadli has been working for the world famous global corporation Amazon since November 2019, which arouses the natural interest of his compatriots. What is success – work or luck? How to choose a specialty? How to find your place in the labor market? Yashar answers these and other questions in his numerous interviews with local media. And not because he craves publicity. The reason for his enlightenment is different: he wants his young compatriots, when choosing the path of life, to have the right guidelines. He can help not only thanks to experience, but also the ability to analyze what is happening, not succumbing to emotions and existing stereotypes. In an interview with Report, he shared his thoughts on this topic.
-Yashar, where did you study and how many years out of your 30s?
– After graduating from school, I was faced with a dilemma of which profession to choose – chemistry or industrial engineering. But the advice of parents and teachers helped, and after completing my undergraduate studies at the Turkish Orta Dogu Tekhik Universiteti, I mastered the profession of an engineer. After working a little at the Sumgayit plant of BASF and gaining experience, I entered the magistracy of Vaasa University in Finland with a degree in Industry Management. Then I worked at one of the SOCAR factories and entered another master's degree at the Massachusetts Institute of Technology, which is considered one of the strongest in the technical field.
– How many years did you study?
– It turns out eight years.
– Besides, studying in different countries requires knowledge of languages.
– Yes, you need to know languages. I speak English, Turkish, Finnish, French, Spanish and Russian, not counting, of course, my native Azerbaijani.
– Isn't it too much? Or is there never a lot of knowledge?
– The study, in my opinion, is an investment in the future. Business today is arranged in such a way that what yesterday was considered a novelty, tomorrow becomes an everyday routine. We need new skills and knowledge, which must be constantly replenished. Learning new things, knowing there is no limit. Therefore, you need to study constantly, if you do not want to lag behind and be overboard. Much also depends on what is behind the concept of work for you. For example, for me it is not only an opportunity to make money, but also the comprehension of something new, the way further, to new heights.
– With this approach, it was probably not difficult for you to get into Amazon?
– Beside approaches, there are many other factors, human factors, in particular. At different times, I was twice interviewed by this company. The first time they turned me down, and the second time they said: "You are the one we are looking for," and hired me as a business analyst. Therefore, those who are looking for a job need to be cool-headed, not to give in to emotions and understand that success will not come immediately. This is a difficult stage in life, but you have to go through it.
– What drives you – a passion for knowledge or the desire to make a successful career?
– I would say both. Although the former makes the latter possible. Each company has its own rules, its own laws. Amazon is the world's largest American e-commerce company with billions of dollars in sales, headquartered in Seattle. I work at its center in Luxembourg, which deals with the countries of the European Union. There are 20-25 million European orders per day. The task of our team and me as an analyst is to determine which are the most profitable ways of delivering goods, which warehouses to use, with which delivery companies to do this, etc. For this, there are certain algorithms that we use. Otherwise, making a profit in this business is quite problematic. And my task as a business analyst is to be able to optimize the process and make it more efficient.
The company has its own ideology, its own principles, whose implementation by all its employees provision the growth and development of Amazon. It is necessary to learn how to perform them, and very little time is given to build up, unlike other companies. In a month you should show what you can, offer a solution to even a small problem, but there should be a result.
– Most readers will think that you have achieved success working for such a world famous company. What do you think?
– I do not consider myself particularly successful in the sense that I understand success. In my understanding, success is an opportunity to support other people, give them the opportunity to move forward, provide an opportunity to develop. My dream is to create my own company, which will employ 5, 10, 15 people, and we will be engaged in the implementation of my ideas, thanks to which I can help other people to realize their dreams, their plans. Making good money yourself is your individual success. And as I understand it, success is an opportunity to teach others, to guide them, to give them the opportunity to develop. These can be various seminars, lectures and other organizational forms. But the main thing is not only to yourself, but also to others. This is how I understand success.
Amazon for me is a school that gives me an understanding of what a successful business is. The pandemic has shown that the future belongs to internet business, online commerce, etc. This is evidenced by the company's record results, which have reached an all-time high. I see my future in the application of data technologies to business. Now I occupy the middle position in the hierarchy of the company, there are several more levels of employees above me, so this is only the path to a further career.
– Someone might be surprised: is Amazon just an intermediate stage in your career?
– People don't work here for decades. They grow up as professionals and move to new higher positions, take the next step in their careers. The development opportunities that you get, after three or four years lead to the realization that the time has come to open a new window of your opportunities, to move further in your profession. These are the requirements of the time, and they must be reckoned with.
-Some readers post comments under the story of our successful compatriots abroad, saying such talented guys cannot advance in our country. Is this the right approach or is it that the global world has become wider and provides more opportunities?
– There are many factors why people go to study and work abroad. One of them is that the growth opportunities, for example, for me in Azerbaijan are limited. Here at Amazon you have the opportunity to communicate with the professionals of the highest level, the company is headquartered in Seattle, where you can always call and get all the information you need. This experience costs much. Unfortunately, Azerbaijan does not yet have such a business environment that meets international standards. But I think that when it appears, many will want to return. Another reason is the so-called human factor, when an employee is assessed not for professional dedication, but for other reasons, which motivates people, especially young people, to find a job abroad.
– What is your connection with your homeland today?
– Homeland means everything. It was especially manifested during the second Karabakh war, when our compatriots came to Luxemburg from neighboring European countries – France, Germany, Belgium to protest rallies. There are few Azerbaijanis in Luxembourg itself. We managed to prevent the adoption of a resolution in support of the Armenians by the parliament. I was in military service at home. But when the war began, I turned to the nearest Azerbaijani embassy in France with a letter in which we expressed our readiness to provide any help and assistance to the homeland. I spoke on one of the state channels in Luxembourg about the Karabakh conflict and that Azerbaijan is returning its territories occupied by Armenia in this war. I must say that our compatriots demonstrated great solidarity and loyalty to their homeland during last year's war.
I often come to my homeland. My family and friends are here. On my last visit, I met with my friend, deputy of the Milli Majlis, Kamal Jafarov, who ran for the Sabirabad region, in which I lived until I was ten years old. We discussed the problems of education in this region and how I can take part in solving them. Homeland is a concept forever, no matter where you live.