In an uncertain and unpredictable world, BRICS offers a path to "true multilateralism," the Chinese president has said Xi Jinping attends the plenary session during the 2023 BRICS Summit in Johannesburg, South Africa, August 23, 2023 © AFP / Gianluigi Guercia
Chinese President Xi Jinping has condemned the "Cold War mentality" still "haunting our world," as he laid out his geopolitical vision at the BRICS summit in South Africa on Wednesday.
"We gather at a time when the world has entered a new period of turbulence and transformation," Xi told the leaders of Brazil, Russia, India, and South Africa in Johannesburg. He added that the world "is undergoing major shifts, division and regrouping, leading to more uncertain, unstable and unpredictable developments."
"The Cold War mentality is still haunting our world, and the geopolitical situation is getting tense," he continued, before restating China's position on the Ukraine conflict: that the fighting began for "complex reasons," and that "no one should add fuel to the fire and worsen the situation."
The Chinese president has maintained for several years that American hegemony is in decline, and that a more multipolar world – in which Washington must treat "rising" powers like China as equals – is emerging. Xi has publicly celebrated the rebalancing of power, telling Russian President Vladimir Putin in March that both men were driving "changes, the likes of which we haven't seen for 100 years." Behind closed doors, he has reportedly warned his military that the geopolitical shift may lead to "the outbreak of a war and its chain reactions."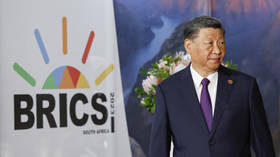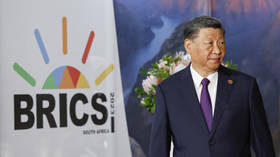 Read more
China 'on the right side of history' – Xi
To avert this, Xi declared on Wednesday that "BRICS countries need to champion the spirit of inclusiveness, advocate peaceful coexistence and harmony between civilizations, and promote respect of all countries in independently choosing their modernization paths."
"There are many civilizations and development paths in the world, and this is how the world should be," he stated.
The Chinese leader called for the strengthening of global institutions and the adoption of global rules based on the UN Charter, "rather than dictated by those with the strongest muscles or the loudest voice." Beijing has repeatedly condemned the US for positioning itself as leader of the "rules-based international order," while violating the same rules that it applies to others.
"BRICS countries should practice true multilateralism, uphold the UN-centered international system, support and strengthen the WTO-centered multilateral trading system, and reject the attempt to create small circles or exclusive blocs," Xi said, calling for increased trade, financial, and development ties between the five-nation group.
Xi was not the only BRICS leader to denounce Western hegemony at the Johannesburg summit. Addressing the conference by video link, Putin blamed the conflict in Ukraine on the West's attempts to preserve its power, and declared that BRICS stands for "the formation of a multipolar world order, truly just and based on international law." (RT)
Azərbaycan24 sosial şəbəkələrdə