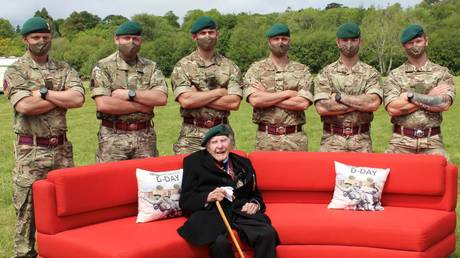 The British Army faced a storm of mockery after posting a photo of one of the last living soldiers who participated in the 1944 Normandy landings, with the internet crowd finding it strikingly similar to a popular porn meme.
The ill-fated picture emerged on Twitter earlier this week. The photo, taken in Cornwall on the 77th anniversary of the Allied invasion of Nazi-occupied Western Europe, shows 96-year-old former Royal Engineer Harry Billinge sitting on a red sofa in the middle of the field. Six active-duty sappers from 24 Commando Royal Engineers are seen standing behind.
One does not have to be a seasoned porn connoisseur to find the picture set-up strikingly familiar, and the Twitter crowd swiftly flocked to the Army's feed to mock it. The veteran photo was compared to a popular 'Piper Perri surrounded' meme, showing the porn actress on a couch with five black men in the background.
Having been given such a head start, the comment section was instantly flooded with assorted D-Day jokes of varying degrees of obscenity, with only a handful of users showing up to pay their respects to the veteran and thank the military for commemorating the landings anniversary.
Some users suggested the unfortunate set-up showed the Army's social media team was not spending enough time on the internet, or they might have predicted how the photo would be received. (RT)