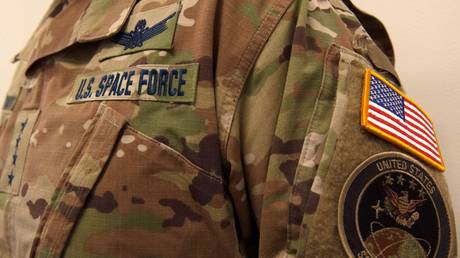 US President Donald Trump's recently inaugurated Space Force has faced a torrent of mockery online after it unveiled its brand new woodland patterned camouflage uniform, raising quite a few eyebrows.
The US Space Force, Trump's beloved brainchild and now one of the eight uniformed services in the country, has finally got its own gear.
"The first #SpaceForce utility uniform nametapes have touched down in the Pentagon," the newest branch of the US military tweeted, accompanying the message with a photo of what appears to be a standard US army woodland camo jacket, sporting a US Space Force patch on its sleeve.
The lack of creativity was not lost on netizens, who immediately pounced on the oddball fashion choice, some arguing there was no need for camouflage in space at all.
Others noted that if such a need arises (say, in the event of a brazen alien attack), the pattern chosen is ill-suited for the task – hiding troops from enemy eyes – since there are no forests in space, at least as far as we know.
There were also those who put forward their own ideas – one suggesting a black, star-studded uniform.
With Trump's Space Force being compared to that of Ronald Reagan's Strategic Defense Initiative (SDI), nicknamed 'Star Wars', a witty commenter suggested that Star Trek uniforms might have been a logical choice. (RT)