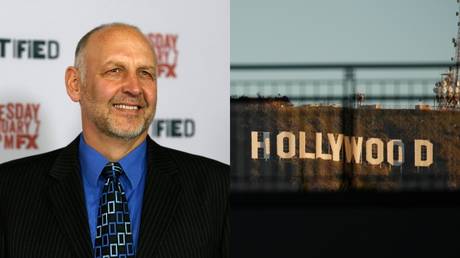 'Justified' actor and outspoken conservative Nick Searcy is challenging left-wing gatekeepers in Hollywood with a new studio venture intended to "run over" the system and speak straight to "heartland America."
Hollywood's aggressive left-wing bias is the industry's worst-kept secret.
Liberal stars consistently trash right-of-center thinkers and Trump supporters through social media, and agenda-driven content is pushed through the pipelines, regardless of the box office results.
Stars have even been caught promoting the idea of a professional blacklist against conservatives in the past – here's looking at you, Debra Messing and Eric McCormack – and conservative performers such as Antonio Sabato Jr. and James Woods have beenopen about the professional roadblocks they have faced for supporting the current president and espousing conservative ideas.
Also on rt.com 'Office' star John Krasinski has to defend himself from the worst accusation in modern Hollywood — being a conservative
Nick Searcy is looking to change all that. While his name may not be the most recognizable to the average filmgoer, his face is certainly well-known. Searcy has spent decades in Hollywood earning parts alongside Tom Hanks ('Cast Away') and Tommy Lee Jones ('The Fugitive'), and working for Oscar favorites like Guillermo Del Toro ('The Shape of Water') and Martin McDonagh ('Three Billboards Outside Ebbing, Missouri'). He is likely best known for his role as Art Mullen in FX's 'Justified.'
The filmmaker, who recently turned his hand to directing with 2018's 'Gosnell', is teaming with new production company American Pictures to "infiltrate" the entertainment industry and create content for the patriotic crowd Hollywood appears to despise so much.
The projects are meant to be an "alternative" to Hollywood's output, Searcy tells RT, as he doesn't see much hope for the mainstream side of the industry.
"I don't think it's possible to change Hollywood. You have to go around it or run over it," he says.
First up on the production slate are 'Where I'm Bound' – a film co-written by Searcy about a 1960s gospel quartet – and 'Revolutionary', a movie set to be directed by Searcy which recounts the Battle of Kings Mountain during the Revolutionary War.
Also on rt.com 'Racist,' 'misogynistic,' sh*thead': Wokesters fume as Louis C.K. brilliantly sidesteps cancel culture with new special
The films are aimed straight at "heartland America," says the filmmaker, and they are the sorts of tales today's Hollywood "doesn't put much value in."
Both movies are currently in development, and 'Where I'm Bound' is expected to shoot in early 2021. Searcy and American Pictures are even exploring ways to get smaller investors involved with their projects, and anyone interested can visit their website.
Beyond telling stories mainstream studios would typically pass over, the 'Justified' star also reveals part of his motivation is to create a space where right-leaning artists can work freely, as they are so often passed over in modern Hollywood the second their politics are known.
"You're not going to choose to be openly Republican if you want to break into Hollywood right now," Searcy says. "I talk to so many actors, people that I know, people that are recognizable who say, 'I agree with you, but I would never come out and say that.'"
"As long as conservatives are doing that, I think basically the bullies win," he adds.
As for his own success despite being openly conservative, Searcy points to timing simply being on his side.
"The Tireless Fussiness of the Offended NeverTrumper" should be the title of a lot of "conservative" pundits' autobiographies.

— Nick Searcy, INTERNATIONAL FILM & TELEVISION STAR (@yesnicksearcy) May 26, 2020
"My career got going before anyone asked me what my politics were," he says of the industry, adding he wasn't all that interested in politics when he first started acting. He became more outspoken when he saw the industry become "so polarized" and taken over by "groupthink" while George W. Bush was in office, a trend he's seen continue with the current president.
Azərbaycan24 sosial şəbəkələrdə
Whatsapp xəttimiz -
070 224 40 25