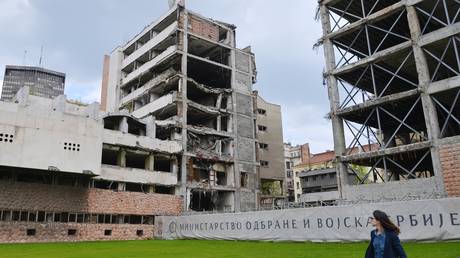 The Serbian president addressed the public on the 24th anniversary of the bloc's bombing campaign against Yugoslavia Former building of the ministry of defense in Belgrade after damage received during the 1999 NATO bombing campaign © RIA Novosti
NATO has yet to answer for the bombing campaign it unleashed on Yugoslavia 24 years ago in violation of international law, Serbian President Aleksandar Vucic said on Friday.
Speaking at a ceremony in the northern city of Sombor to commemorate the victims of the deadly 1999 airstrikes that claimed thousands of Serbian lives, Vucic said that NATO's attack marked the moment when "modern international law finally died."
"24 years have passed. You tore away parts of our territory. You killed 79 children, 2,500 people and not only civilians, but also soldiers and police," the Serbian president asserted. "Who are you to kill our soldiers and police who are on their territory and in their country? Where did you get the right to kill our soldiers and our police? Who gave you that right?"
Vucic recalled that the US-led military bloc attacked a "free and sovereign country" while justifying the move by saying it had to stop genocide. He also recalled that NATO failed to get permission from the UN Security Council to start the military intervention, but went ahead with it anyway.
You did not prevent any humanitarian disaster. You have armed rebel and renegade groups in a free and sovereign country, that has never set foot on the territory of another country.
According to the Serbian leader, NATO "carried out the aggression" for two reasons. Firstly, they wanted to show that "we are the strongest and we can do everything," and secondly, "to take Kosovo and Metohija" away from Serbia, he said.
Vucic went on to say that Serbia's duty is "to try to forgive," but that it can forget everything only if it ceases to exist.
The president delivered his speech on the anniversary of the start of Operation Allied Force, NATO's airstrikes against Yugoslavia on behalf of ethnic Albanian separatists, which kicked off on March 24, 1999.
The 78-day air campaign, which targeted Serbian cities, forced the Yugoslav armed forces to withdraw from Kosovo. In 2008, the breakaway region unilaterally declared independence with the support of the US and many of its allies. The move, however, was not recognized by Serbia, Russia, China and several other countries. (RT)
Azərbaycan24 sosial şəbəkələrdə