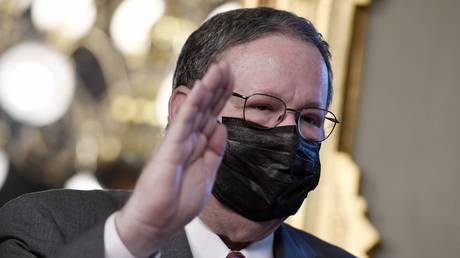 American envoy David Cohen hinted that the US may have been behind Justin Trudeau's dramatic allegations David Cohen is sworn in as US Ambassador to Canada at the White House in Washington DC, November 30, 2021 © AFP / Olivier Douliery
The 'Five Eyes' intelligence alliance provided Canada with the information necessary to accuse the Indian government of murdering a prominent Sikh separatist, US Ambassador to Canada David Cohen said on Friday.
"There was shared intelligence among Five Eyes partners that helped lead Canada to making the statements that the prime minister made," Cohen told CTV News. The 'Five Eyes' refers to the intelligence-sharing alliance comprising Australia, Canada, New Zealand, the UK, and the US.
Last week, Canadian Prime Minister Justin Trudeau told Canada's parliament that his government was investigating "credible allegations" that agents of the Indian state were behind the murder of Hardeep Singh Nijjar in British Columbia in June.
Nijar, who advocated for the creation of a separate Sikh homeland in the north Indian state of Punjab, had been on India's wanted list since 2020. However, New Delhi denied Trudeau's allegations, with the Indian Foreign Ministry describing them as "absurd and [politically] motivated."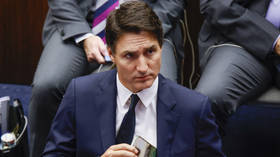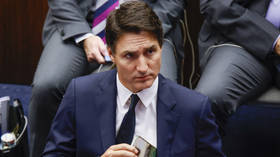 Prior to Cohen's interview, CTV reported that the intelligence behind Trudeau's accusation may have been provided by an unnamed member of the Five Eyes. However, the Canadian news site attributed this claim to anonymous sources.
Cohen did not provide much further information, but hinted that the US may have been the source of the intelligence.
"I'm not in the habit of commenting on private diplomatic conversations," Cohen told CTV. "There was a lot of communication between Canada and the United States about this, and I think that's as far as I'm comfortable going."
Publicly, American officials have responded cautiously to Trudeau's claims. White House National Security Council spokesman John Kirby said on Wednesday that the US was "deeply concerned" about the allegations. He added that "the facts should take the investigators where they may." Kirby also remarked that "our relationship with India remains vitally important not only for the South Asian region but of course for the Indo-Pacific."
The Five Eyes alliance primarily facilitates the sharing of signals intelligence, or information gleaned from wiretapping, online surveillance, and the capture and decryption of secret communications. However, the five nations also cooperate informally in the realms of human and defense intelligence.
Cohen did not say whether signals intelligence had been used to inform Trudeau's accusations. However, a report by Canadian state broadcaster CBC earlier this week suggested that Canadian spies had spent several months since Nijar's murder wiretapping the communications of Indian diplomats.
While relations between India and Canada were already strained due to New Delhi's claims that Ottawa was not taking the threat of Sikh separatism seriously, Trudeau's allegations have caused significant diplomatic fallout. India and Canada have expelled each other's diplomats, and India announced on Thursday that it would stop processing visas for Canadian citizens.
(RT)
Azərbaycan24 sosial şəbəkələrdə