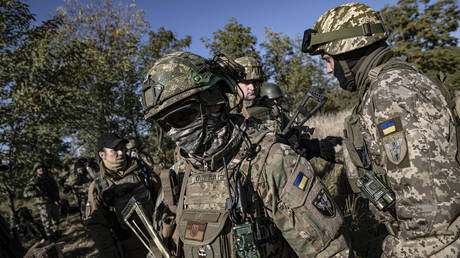 Insisting that Kiev should deliver a "knockout blow" could undermine the push before it even starts, Ben Hodges said FILE PHOTO. © Metin Aktas/Anadolu Agency via Getty Images
The West could sabotage Ukraine's much-hyped anticipated counteroffensive against Russia by piling up too much pressure on Kiev, a retired US general has warned.
In an interview to Business Insider released on Thursday, Ben Hodges, former commander of US Army Europe, cautioned that portraying Ukraine's push to reclaim lost territories as a make-or-break offensive could set a dangerous precedent and derail it even before its starts.
"The only thing I think that can screw this up is if the West exerts so much pressure on Ukraine and it causes them to stop short of a total victory," he told the outlet.
Echoing remarks by some top Ukrainian officials, Hodges went on to say that he would "reject the talk that Ukraine's only got one shot" at the offensive, and if it fails to "achieve a knockout blow," then its Western backers would stop supporting Kiev. This narrative is promoted by those who "don't want to see Ukraine win," he added.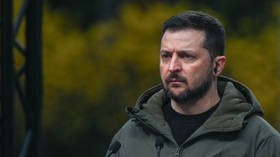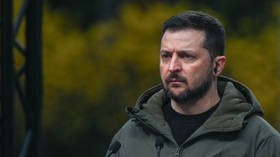 Read more
Kiev 'needs more time' before counteroffensive – Zelensky
Hodges also noted that many top White House officials "are not committed to Ukraine absolutely winning," rebuking the administration of US President Joe Biden for failing to clearly define its strategic objectives in the conflict.
With speculation rampant in recent months about an imminent spring push, in late March Ukrainian Foreign Minister Dmitry Kuleba attempted to downplay its significance, saying that "we should counter by all means the perception of the counteroffensive as the decisive battle of the war."
Earlier this week, Ukrainian President Vladimir Zelensky claimed that Kiev was ready for the offensive, but still needed a bit more time for the conditions to become optimal and for the groundwork to be laid so as to avoid "unacceptable" losses.
However, in late March General Mark Milley, chairman of the US Joint Chiefs of Staff, voiced skepticism about the planned offensive, warning that Ukraine would have a hard time "kicking every Russian out" of the territories it claims as its own.
In April, commenting on the potential move by Kiev, Kremlin Press Secretary Dmitry Peskov said that the Russian military "thoroughly tracks all the relevant information." (RT)
Azərbaycan24 sosial şəbəkələrdə