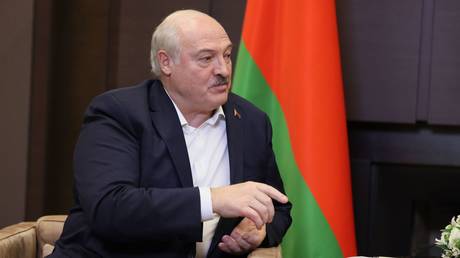 Poland already has forces ready to cross the border, the Belarusian president has claimed FILE PHOTO: Belarusian President Alexander Lukashenko © Sputnik / Mikhail Mettsel
NATO might be just one step away from seeing its troops deployed to Ukraine, President of Belarus Alexander Lukashenko said during a meeting on Friday with Russian leader Vladimir Putin in Sochi. Poland in particular has formed forces ready to cross into the Ukrainian territory at any moment, the visiting president added.
Speaking about Western claims of Russia supposedly soliciting the aid of foreign mercenaries for its military campaign in Ukraine, Lukashenko said that the US and its allies should look at their own actions first and count all the mercenaries that they, according to him, sent to assist Kiev's troops. "Black, Asian and white Americans are fighting for Ukrainians already," the Belarusian leader claimed.
Washington and other Western nations might not just stop at that, he added, claiming that Western nations are just "dreaming of [sending] their regular military units to Ukraine."
"Poland has already formed … military units at the border that are ready to enter Ukraine," Lukashenko said, calling on the West to "look for a beam in their own eye" before giving rebukes to others.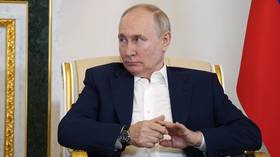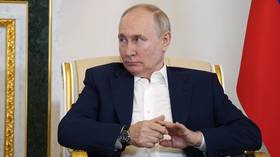 Read more
'Stupidity' behind foreign mercenaries' deaths in Ukraine – Putin
Putin, in turn, said that Russia has no need for foreign forces in Ukraine. As many as 300,000 Russian citizens signed contracts with the Russian Defense Ministry and joined the nation's Armed Forces amid Moscow's conflict with Kiev, the president said. Russian military units are also "equipped with state-of-the-art weapons and hardware," he added.
The Russian president also dismissed rumors about Moscow supposedly asking Pyongyang for "volunteers" that could join its cause in Ukraine. "That is absolute nonsense," he said. The rumors surfaced amid Putin's meeting with North Korea's leader Kim Jong-un, during his visit to Russia this week.
At a meeting with Lukashenko in late July, Putin had said that foreign mercenaries fighting for Ukraine had suffered "significant losses" during a major counteroffensive Kiev launched in early June. At that time, Russia's Defense Ministry said that some 4,990 foreign fighters had been killed since the start of Russia's military operation in Ukraine in February 2022, with roughly the same number of them fleeing the country.
In mid-August, several mercenaries from Western nations, including two Americans, told ABC news that casualty rates in their units had reached 85% during the summer offensive operation. (RT)
Azərbaycan24 sosial şəbəkələrdə