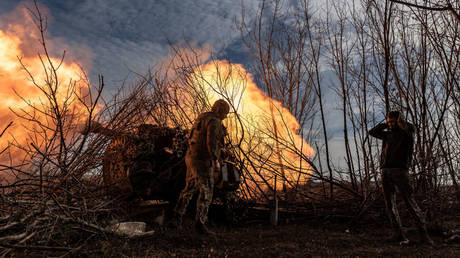 Kiev's backers increasingly believe neither side will be able to break a "stalemate," The Economist has reported Ukrainian soldiers fire artillery earlier this month in the Donbass region. © Diego Herrera Carcedo/Anadolu via Getty Images
More and more Western leaders have reportedly conceded that the Russia-Ukraine conflict may drag on for another five years in a "stalemate" that neither side is capable of shattering.
Neither Russia nor Ukraine is prepared to "give in," and there is no sign that the conflict will end anytime soon, The Economist reported on Monday. The crisis has already strained the West's military capacity amid struggles to produce enough artillery shells, the magazine said, and the Israel-Hamas war creates further stress.
"As time goes on, there will be trade-offs as certain key systems are diverted to Israel," Mark Cancian, a senior adviser at the Center for Strategic and International Studies in Washington, wrote last month. "A few systems that Ukraine needs for its counteroffensive may not be available in the numbers that Ukraine would like."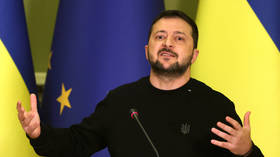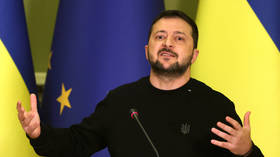 Ukraine's top general, Valery Zaluzhny, raised eyebrows when he told The Economist earlier this month that the conflict with Russia had reached a stalemate. Although officials in US President Joe Biden's administration were troubled by Zaluzhny's candor, they agreed with his assessment, the New York Times reported last week.
The Ukraine crisis has revealed how "meager" Western armories are, The Economist said. Even as the US ramps up its output of 155mm artillery shells, its production in 2025 will be lower than Russia's in 2024, the magazine added. If the overlapping conflicts in Ukraine and Israel both drag on, Washington and its allies would be hard-pressed to cope with another crisis.
"If the war in Ukraine stays an open sore in Europe and the Middle East remains ablaze, the West will struggle gravely should another serious crisis erupt," the outlet warned. "One risk is that adversaries simply capitalize on chaos elsewhere for their own ends. If America were bogged down in a Pacific war, for instance, Iran would surely feel more confident of getting away with a dash for nuclear weapons."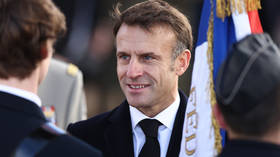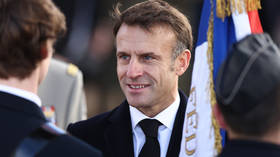 The magazine called the situation a "new world disorder" and suggested that Russia and China see "opportunities" in the growing threats. "Even more worrying is the prospect of active collusion. European military planners give weight to the possibility that Russia might conduct menacing maneuvers during a crisis over Taiwan in order to divert American attention and tie down its allies, preventing them from lending a hand in Asia."
Concentrations of crises have occurred in past eras, The Economist said, "but America and its allies cannot intervene as easily or cheaply as they once did." That's partly because the Ukraine crisis has "cemented" the partnership between Russia and China, and the two countries are working more closely together, according to the magazine. (RT)
Azərbaycan24 sosial şəbəkələrdə