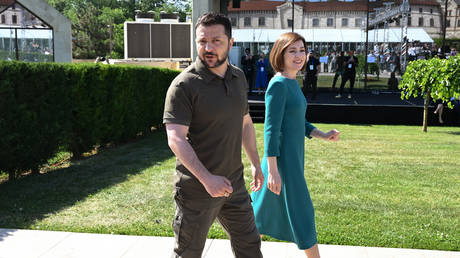 Moldova's government is walking along the same path of escalation as Kiev did, Deputy Foreign Minister Mikhail Galuzin claims President of Ukraine Vladimir Zelensky (L) and President of Moldova Maia Sandu (R) arrive at the European Political Community (EPC) Summit in Bulboaca, Moldova. © AFP / Daniel Mihailescu
The US and its allies are looking to use the former Soviet Republic of Moldova to contain Russia and turn it into "a second Ukraine," Russian Deputy Foreign Minister Mikhail Galuzin has warned.
"Absolutely irresponsible, absolutely short-sightedly, the West is eyeing Moldova for the role of a second Ukraine, and, unfortunately, the current Moldovan leadership is actively involved in this," Galuzin told Rossiya 24 broadcaster on Thursday.
The government in Chisinau "walks the path of a pro-Western policy; takes part in the anti-Russian policy of the US and its satellites; follows the path of initiating that same escalation in relations with Russia" as Kiev did in the years leading up to its current conflict with Moscow, he pointed out.
According to the diplomat, the Russian side is not doing anything to stoke tensions with the people of Moldova – a small nation of 2.6 million people, sandwiched between Ukraine and Romania. "Those are not our methods," he insisted.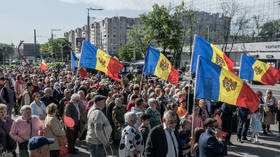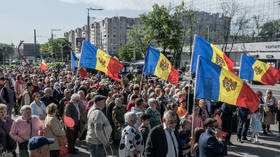 In May, the EU launched a partnership mission in Moldova under its Common Security and Defense Policy (CSDP), with the proclaimed aim of helping the country with crisis management and tackling hybrid threats. The bloc's foreign policy chief, Josep Borrell, said the move was necessary due to "continued Russian attempts to destabilize Moldova with hybrid actions."
Galuzin also said the EU's mission was anti-Russian in its very essence, as it is designed to further strengthen Chisinau's pro-Western course and direct the country towards confrontation with Moscow.
While pursuing closer ties with the West, the country's officials are ignoring the interests of a large portion of Moldova's population, who want good relations with Russia and don't believe in stories about the perceived "Russian threat," the deputy FM added.
Earlier this week, Moldova's parliament terminated agreements on military cooperation and tackling the aftermath of natural disasters with the Commonwealth of Independent States (CIS) – an organization comprised of Russia and most other former Soviet republics. Last month, President Maia Sandu claimed that membership in the CIS was "not beneficial to the citizens of Moldova, and we proceed from the interests of the citizens."
In late May, NATO said it had "mutually beneficial" relations with Moldova, as the US-led military bloc has been helping the country "with efforts to reform and modernize its defense and security structures and institutions." NATO also described Chisinau as a "valued contributor" to the NATO-led peacekeeping force in Kosovo, where 40 Moldovan troops are deployed. (RT)
Azərbaycan24 sosial şəbəkələrdə