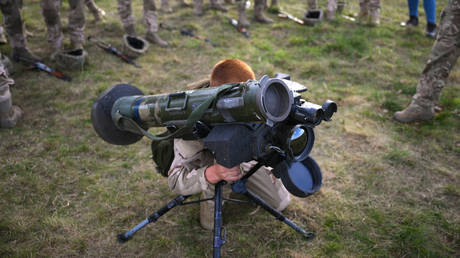 Poland, Romania and other countries are being flooded with Western arms intended for Kiev, the veteran journalist says A Ukrainian recruit holds a US-made Javelin anti-tank weapon during training. © AFP / Daniel Leal
Western-supplied arms are being sold by Ukrainian commanders to smugglers in Poland, Romania and other states, veteran American journalist Seymour Hersh has claimed.
The Pulitzer Prize winner, speaking to Afshin Rattansi on his program 'Going Underground,' said the West is aware of this black market trade, as some reports about missing arms shipments have even appeared in the US media.
Hersh claimed that, according to his data, almost immediately after the conflict broke out between Kiev and Moscow last February, "Poland, Romania, other countries on the border were being flooded with weapons we [the US and allies] were shipping for the war to Ukraine."
"Often, it wasn't generals, it was colonels and others, who were given shipments of some weapons, [who] would personally resell them… to the dark market," he explained.
The journalist noted that there was concern in the West last year that some of the arms sent to Ukraine, such as Stinger shoulder-launched missiles, could be used to "shoot down an airplane at considerable height."
As for Western-supplied weapons ending up on the black market, "CBS wrote a story about it that they were forced to retract," Hersh said.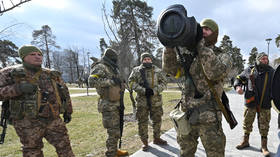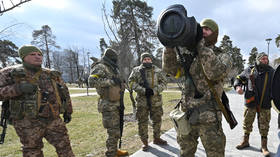 When asked about why the piece was retracted, the journalist said the media is supporting the stance of the US government that "we're on the side of Ukraine. We all hate Russia."
Hersh was likely referring to the documentary "Arming Ukraine," which CBS aired last August. The promo for the film, which included a claim by the founder of pro-Ukraine NGO Blue-Yellow, Jonas Ohman, that only 30% of military aid actually reached the frontline, was removed, while the documentary itself and the story accompanying it were redacted.
Russian officials have on many occasions warned about Western-supplied arms being smuggled outside Ukraine, thus deteriorating the security situation elsewhere around the globe.
"NATO military supplies intended for the Kiev regime end up in the hands of terrorists, extremists and criminal groups in the Middle East, Central Africa, Southeast Asia," Russia's Foreign Ministry spokeswoman Maria Zakharova said in October. At the time, she estimated the black market turnover at $1billion per month.
An investigation by RT last summer also revealed how various weapons supplied to Kiev by the West were being sold on the dark net. The journalists were able to swiftly negotiate to the purchase of a US-made kamikaze drone with smugglers. However, it impossible to confirm whether the sellers actually had the weapons in stock, as the reporters did not complete the purchase.
The full version of Going Underground's interview with Seymour Hersh will be aired on RT on Monday.
Azərbaycan24 sosial şəbəkələrdə