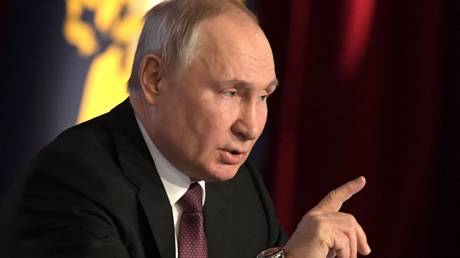 The push to create a "global NATO" resembles the actions of Nazi Germany, Italy, and Japan in the 1930s, the Russian president has said Russian President Vladimir Putin participates in an annual extended meeting of the Board of the Russian Interior Ministry in Moscow on March 20, 2023. © Alexey NIKOLSKY / SPUTNIK / AFP
Western countries are seeking to put together new global alliances reminiscent of those forged by the Axis powers prior to World War Two, Russian President Vladimir Putin has said.
Speaking in an interview to Russia 1 TV released on Sunday, the Russian leader dismissed claims that Moscow and Beijing are forming a military bloc that could threaten the West. He described the cooperation between the two as "transparent," adding that Russia and China make no secret about their ties in various spheres, including defense.
Meanwhile, Putin continued, the US is creating new alliances, citing NATO's new Strategic Concept as an example of such efforts. "It directly stipulates that NATO is going to develop relations with nations in the Asia-Pacific region, including New Zealand, Australia and South Korea," he said.
The bloc also announced that it would endeavor to create what Putin called "a global NATO," adding that the UK and Japan recently signed a reciprocal military access agreement.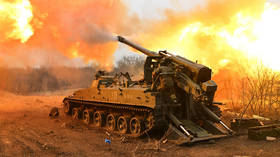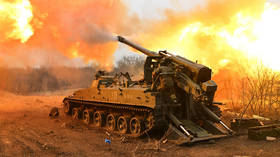 Read more
Russia outproducing West's ammunition supplies to Kiev – Putin
"That's why Western analysts themselves – not us – are saying that the West is starting to build a new axis similar to the one that was created back in the 30s by the fascist regimes in Germany and Italy, and militaristic Japan."
The US-led military bloc approved the new concept at the Madrid summit of the bloc last June, while describing Russia as the "most significant and direct threat" to NATO amid the Ukraine conflict. In a first, it also addressed the challenges stemming from China, claiming that Beijing's "hybrid and cyber operations and its confrontational rhetoric" target the alliance's security.
At the time, Russian Deputy Foreign Minister Sergey Ryabkov stated that while NATO regards Moscow as a threat, such an assessment is unfounded. The concept was also denounced by China, which claims that this document distorts facts, is tainted with a Cold War mentality, and smears Beijing's foreign policy. (RT)
Azərbaycan24 sosial şəbəkələrdə