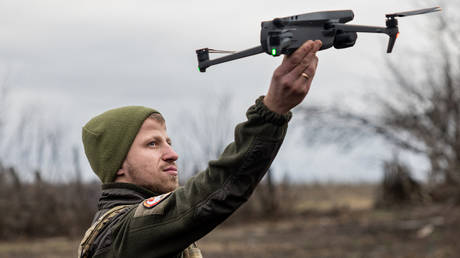 Kiev is afraid of upsetting the US by doing business with Beijing, a senior official has revealed FILE PHOTO: A Ukrainian serviceman flies a drone © Sameer Al-DOUMY / AFP
Kiev does not buy Chinese weapons to avoid irritating the US, Ukrainian Deputy Defense Minister Vitaly Deinega has claimed. The official made the comments while discussing the importance of drones in modern warfare.
"As far as it was explained to me… we cannot buy anything Chinese so as not to hurt our relationship with the US," Deinega told Ukrainian news outlet Leviy Bereg on Monday.
The official was discussing the use of Chinese-made DJI Mavic quadcopters by Ukrainian troops. Kiev's forces have the aircraft "in large quantities" but rely on purchases by volunteers for supplies, because "there is the position that the Defense Ministry cannot procure them," Deinega explained.
He admitted that Russia currently has a drone advantage against Ukraine, but claimed that the situation would eventually change.
"Every day we'll get some new kind of drones. Let's see what we've acquired in the year and a half of the war: naval drones, ground drones," Deinega stated.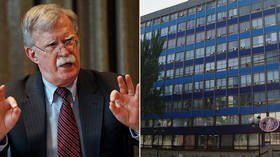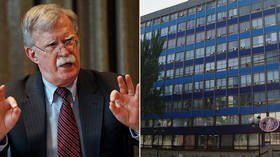 Read more
Offer they can't refuse: US wants to block China from buying Ukraine aircraft engine factory
He insisted that drones will be a key factor in future combat and that Ukraine will serve as a source of innovation for the West. "[In future] we and the Russians will have the same difference that we have in military vehicles" Deinega said, suggesting that the Western hardware provided to Kiev was superior to what Moscow has at its disposal.
"Western drones will be more expensive than the drones of the 'axis of evil' – Russia, Iran and other similar nations. They will be more expensive, more technologically advanced and precise," Deinega said.
Reports have claimed that the fear of reprisals from Washington prompted the government of Ukrainian President Vladimir Zelensky to torpedo the sale of manufacturing giant Motor Sich to Chinese investors. The Soviet-era military helicopter engine maker had been slated for a sale to foreign buyers for years, although the Ukrainian security services opposed the move.
Kiev sanctioned Motor Sich's potential Chinese buyers in January 2021, blocking the transfer of assets and the possibility of managerial control. It nationalized the company one year later, while long-time Motor Sich chief Vyacheslav Boguslaev was arrested for alleged dealings with Russia last October. (RT)
Azərbaycan24 sosial şəbəkələrdə