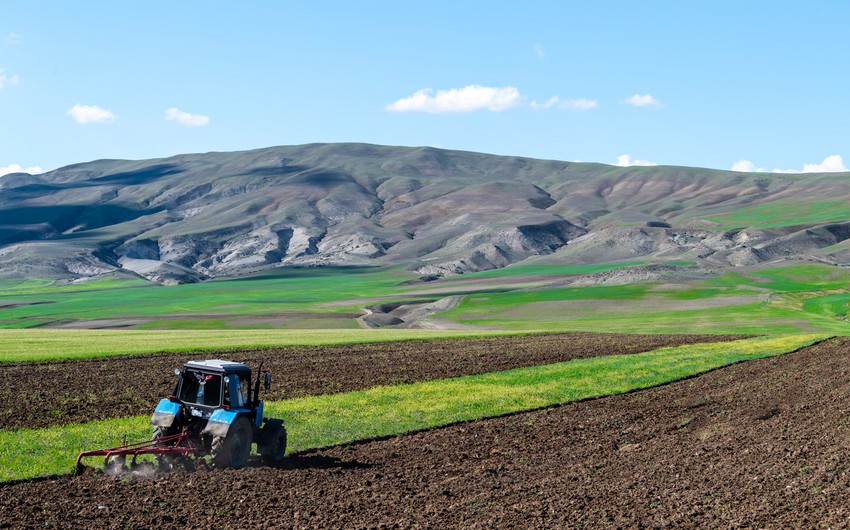 Azerbaijani government has a key policy to help bridge the rural-urban divide. This targets regional development and revitalization of rural economies, according to the World Bank (WB) analysis of the market and competitiveness of Azerbaijan's agricultural sector, Report informs.
Spatial disparities persist in Azerbaijan with growth centered largely in and around Baku. Rural areas are lagging behind, despite hosting a significant share of the population.
In 2019, agriculture employed 36 percent of the entire work force while generating only 7 percent of GDP.
"Azerbaijan has a strong comparative advantage in the production of fresh and processed fruits and vegetables but has not reached its full potential in this area19. Rural areas are beset by two mutually reinforcing trends – lack of both meaningful employment opportunities and sustainable business activity, and inadequate infrastructure and services. The recent economic shocks put particular pressure on the livelihoods and incomes of vulnerable population groups in less developed regions, a situation exacerbated by COVID-19," reads the report.
Agriculture and services are also considered as crucial sectors for the diversification of the economy, improving efficiencies and generation of jobs, but some road networks in poor condition result in higher vehicle operating costs and inefficiencies to logistics providers.
"The agricultural supply chain also needs additional cold storage capacities and more efficient production processes," the bank said.
Azerbaijan's agricultural sector is highly fragmented, with many small farms. In Azerbaijan, agricultural producers are classified into three groups: family farms and households, agricultural enterprises, and private owners and entrepreneurs.
"By far the largest group consists of family farms, which comprise individual farmers that are market oriented, and 'households' with agricultural land producing mainly for home consumption.20 Increasing domestic demand for potatoes, fruit, vegetables, meat, fish and eggs is being driven by income growth and urbanization trends. Due to their small-scale production many farmers have little access to markets, other than their local village. The food supply chain is poorly organized, transactions are mainly on ad-hoc basis and costly due to the prevailing small-scale nature of farming," the WB added.
A further challenge for the domestic agricultural supply chain is to comply with quality, food safety and environmental standards. The project will support these areas through advisory and training initiatives.
Currently, however, many locally-owned and operated businesses in the project area, are small agricultural producers who lack financial means and entrepreneurial skills to invest in their own processing and logistical facilities, such as cold storage or packing facilities, resulting in damaged produce, lost harvests and extra costs, the bank noted.
"In some regions, the government of Azerbaijan has invested in storage facilities through the State Fund for Support to Entrepreneurship, but there are few in Aran region. Where these facilities are provided, they tend to be at a scale not suited for small producers, which predominate in the project region. Also, due to lack of rural infrastructure, farm-gate prices are low as producers cannot store their products for very long, forcing them to sell at the prevailing low price during the high season. The project area, Salyan-Bilasuvar, has one of the hottest climates in Azerbaijan, so being able to access cold storage while waiting for delivery to market, is particularly important," reads the report.
Supporting female producers in rural areas is one of the government's priorities. Women's employment is mostly concentrated in low-paid sectors, and about 42 percent of female jobs are currently in agriculture, the largest sector for the employment of women, followed by services. Thus, according to the UNDP Human Development Report for 2020, despite the progress compared to previous period, the GNI (gross national income) for women in Azerbaijan was significantly less than that for men, according to the bank.
"The gender assessment conducted in the project areas confirmed a range of barriers inhibit both genders, but particularly women, from trading and entrepreneurial activities. Some of these barriers include poor roads and transportation to access markets, lack of adequate local market infrastructure and lack of credit and business management skills. These barriers, coupled with household responsibilities, mean that women sell their agricultural products at their doorsteps, often at a lower cost than at markets. Women of certain socio-economic status are particularly vulnerable," reads the report.