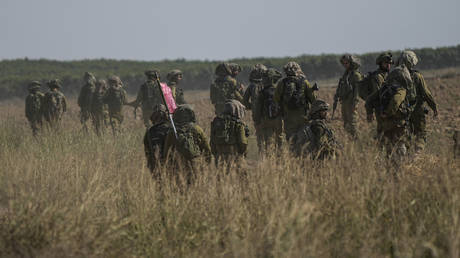 American officials reportedly hope to buy time to secure the release of captives held in Gaza Israeli soldiers conduct a patrol near the Israel-Gaza border in southern Israel, October 20, 2023. © AP / Ohad Zwigenberg
The US government and some European allies are pushing Israel to postpone its ground attack on the Gaza Strip in order to negotiate the release of more hostages held by Hamas, Bloomberg reported. Israeli forces are planning a major operation in the Palestinian enclave in response to a deadly terrorist attack earlier this month.
Though Israel previously signaled it would soon deploy troops to Gaza, it has "agreed under US pressure to hold off," multiple sources familiar with the hostage negotiations told the outlet on Friday.
Hamas, the Palestinian militant faction that rules Gaza, captured more than 200 people during its October 7 terrorist attack on Israel, including several US citizens. Washington has taken part in "secret," Qatari-brokered talks to free the captives in the weeks since, according to Bloomberg.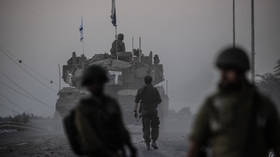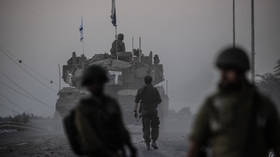 On Friday, US officials confirmed that two American hostages had been released, a mother and daughter identified as Judith Tai Raanan and 17-year-old Natalie Raanan. They are now under the care of the Israel Defense Forces (IDF), which attributed their release to military "pressure" placed on Hamas.
The Qatari Foreign Ministry later called the move a "breakthrough," adding that it followed "many days of continuous communication between all the parties involved." The ministry vowed to maintain dialogue with Hamas in hopes of freeing "all civilian hostages from every nationality."
Though the White House has been vocal in its support for Israel in recent weeks, Washington has also warned against a lengthy occupation of Gaza in private talks, according to US and other Western officials cited by CNN. One unnamed NATO defense minister told the outlet that Israel's allies "completely respect their right to go after Hamas," but have merely urged caution.
"So it's not 'Don't do it,' but it is 'Think about what happens and have a strategy, not just a tactical maneuver.' We expect Israel to act within international humanitarian law, but we understand that they're dealing with an enemy here," the official said, echoing public comments from other Western governments.
Asked on Friday whether Israel should delay the ground operation, President Joe Biden told reporters "Yes." However, the White House later clarified that the president was "far away" and had misheard the question.
"The question sounded like 'Would you like to see more hostages released?' He wasn't commenting on anything else," White House spokesperson Ben LaBolt said in a statement.
The latest round of violence has left thousands killed and injured on both sides, with over 4,100 Palestinians and some 1,400 Israelis reported dead, according to local officials. The IDF has launched weeks of heavy airstrikes on Gaza since the Hamas attack earlier this month, prompting warnings from the United Nations and other rights groups about a looming humanitarian disaster in the enclave. (RT)
Azərbaycan24 sosial şəbəkələrdə