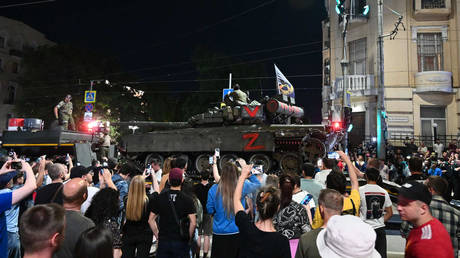 US officials anticipated stronger resistance from regular Russian troops during the aborted coup, the network reported FILE PHOTO: Local residents take pictures as Wagner troops prepare to leave Rostov-on-Don on June 24, 2023. © Sergey Pivovarov / Sputnik
The US expected more resistance to the coup attempt by the Wagner private military company as Evgeny Prigozhin advanced on Moscow, a source has told CNN, predicting that the aborted insurrection would be "a lot more bloody than it was."
The intelligence community in Washington claims to have had advance information about Prigozhin's actions, according to reports in the US media, and also believed it would result in greater bloodshed.
"I do know that we assessed it was going to be a great deal more violent and bloody," the source told CNN.
Prigozhin staged the coup on Friday evening in what he described as an attempt to oust senior Russian military officials, whom he accused of treason. His forces, which are armed with heavy weapons, had faced little resistance in capturing the headquarters of the Southern Military District, one of territorial commands of the Russian Defense Ministry, in the city of Rostov-on-Don.
They were moving unopposed towards Moscow when Prigozhin called off the insurrection on Saturday after accepting a deal with the government, which had been mediated by Belarus. He cited the desire to avoid bloodshed as his reason for stopping.
During the brief uprising, Prigozhin claimed that his forces had shot down a Russian attack helicopter. There are uncorroborated reports of several more military aircraft being downed by the Wagner Group, and suggestions that the businessman agreed to pay compensation for the deaths caused by his actions.
There was also some fighting along the route, with 19 homes reportedly damaged in Voronezh Region, according to local authorities. (RT)
Azərbaycan24 sosial şəbəkələrdə