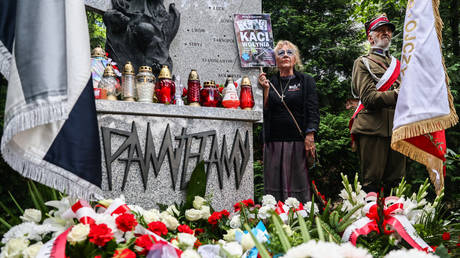 This year Poland marks the 80th anniversary of mass killings by Ukrainian nationalists FILE PHOTO: People commemorate Polish victims of Ukrainian mass murders in Volhynia and Eastern Galicia © Beata Zawrzel / NurPhoto via Getty Images
Kiev must prove it is taking steps to acknowledge the responsibility of Ukrainian nationalists for the mass murder of ethnic Poles during World War II in Volhynia, a Polish MP involved in implementing Warsaw's European policy has said.
On Sunday, Poland will mark the day of remembrance for victims of the atrocities, which the EU nation considers an act of genocide. The massacres in Volhynia and Eastern Galicia 80 years ago were intended to further the cause of an ethnically uniform Ukrainian nation state. Their perpetrators are considered national heroes by Kiev today.
Szymon Szynkowski vel Sek, the Polish secretary of state for European policy, said on Thursday that he expects gestures from the Ukrainian government regarding the tragedy, because "this matter is an unhealed wound."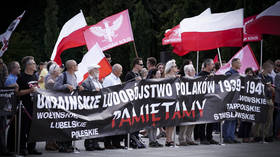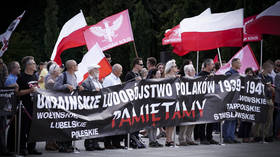 Polish officials "have been in contact with the Ukrainian side regarding these commemorations for months, and that's all I can say at the moment," the lawmaker told RMF FM radio.
Last month, Polish Deputy Foreign Minister Pawel Jablonski identified the dispute over the tragic events as a potential stumbling block on Ukraine's path towards EU membership, insisting that it must be resolved.
Opposition politician Tomasz Siemoniak, a former Polish defense minister, last week argued against driving Kiev into a corner to extract a formal apology. However, he added that he "would expect some gestures, at least in this practical sphere – exhumations, monuments, access."
In 2017, the Ukrainian government prohibited the search for and exhumation of victims of the massacres on Kiev-controlled territory. The move was retaliation for the dismantling of a monument to Ukrainian nationalists in Poland, although the decision was reversed last year under President Vladimir Zelensky.
On last year's day of remembrance for Polish victims, the Ukrainian leader submitted a draft law to parliament which granted special privileges to modern-day Polish citizens. They are now treated similarly to Ukrainian nationals in many regards, including employment opportunities, access to education, and certain social benefits. Zelensky's Polish counterpart, Andrzej Duda, noted at the time that he appreciated the symbolism. (RT)
Azərbaycan24 sosial şəbəkələrdə