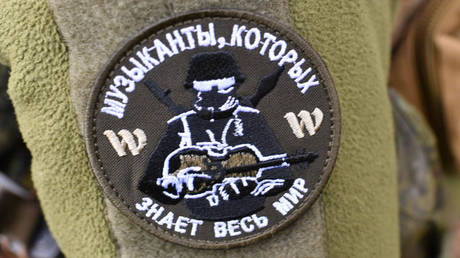 Ukrainian troops are reportedly trapped in the key Donbass town File photo: A Wagner Group fighter on the battlefield in Donbass © Viktor Antonyuk/RIA Novosti
Units of Wagner Group have taken control of the "entire territory" of Soledar, the head of the private military company Yevgeny Prigozhin claimed on Tuesday evening. Fighting is still going on in the center of town, where an unknown number of Ukrainian soldiers has been encircled.
"There is a cauldron in the center of town, where urban fighting is taking place," Prigozhin said in a statement released to the media. "We'll announce the number of prisoners tomorrow."
He added that only Wagner "and no other units" had taken part in the storming of Soledar.
A video showing two Wagner fighters standing calmly outside the town administration building was released on social media earlier in the day. Such recordings, usually accompanied with geospatial coordinates, have commonly been used during the conflict to announce territorial control.
Named after its salt mines, Soledar had around 10,000 residents before the conflict. The Ukrainian army turned it into a strongpoint after being pushed out of Popasnaya in mid-2022. Russian control over the town creates problems for Kiev's forces in the embattled bastion of Artyomovsk, which Ukraine has renamed Bakhmut.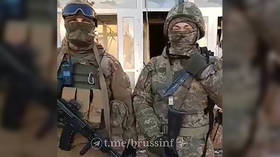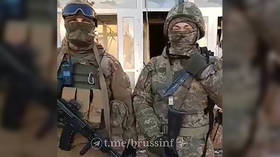 Read more
Wagner group releases video from contested Soledar
Prigozhin said last week that his objective was not necessarily to take the towns, but "the destruction of the Ukrainian army and the reduction of its combat potential."
On Sunday, Ukrainian President Vladimir Zelensky acknowledged that the situation in Soledar was "very difficult" and called it "one of the bloodiest spots along the front line," but vowed that Ukrainian troops would continue to hold "no matter what."
Russia sent troops into Ukraine on February 24, citing Kiev's failure to implement the Minsk agreements, designed to give the regions of Donetsk and Lugansk special status within the Ukrainian state. The protocols, brokered by Germany and France, were first signed in 2014. Former Ukrainian president Pyotr Poroshenko has since admitted that Kiev's main goal was to use the ceasefire to buy time and "create powerful armed forces."
Moscow demands that Ukraine officially declare itself a neutral country that will never join any Western military bloc. Kiev insists the Russian offensive was completely unprovoked. (RT)
Azərbaycan24 sosial şəbəkələrdə