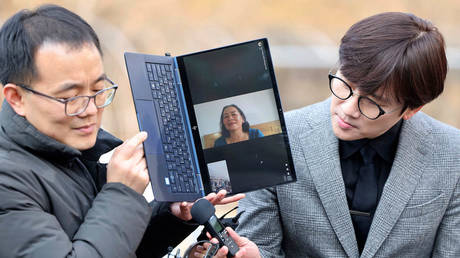 A Seoul judge ruled that US-allied South Korean marines had massacred civilians Nguyen Thi Thanh of Vietnam speaks after winning her war crimes case in Seoul, South Korea, February 7, 2023. © Ryu Young-suk/Yonhap via AP
Almost 55 years after her village was destroyed by South Korean marines fighting alongside the US in Vietnam, a judge in Seoul ruled that Nguyen Thi Thanh was a victim of a war crime and entitled to compensation.
On Tuesday, Judge Park Jin-soo of the Seoul Central District Court ruled that what members of the Second Marine Brigade did to her family "clearly amounted to an illegal act." Ngyuen, 62, was entitled to compensation from the South Korean government in the amount of $23,900, he said.
Lawyers representing Nguyen, who brought the case in 2020, hope it will create a precedent for prosecuting other atrocities committed in Vietnam by South Korean troops. Seoul had sent 320,000 troops to back the US war effort in Vietnam, the largest allied contingent in the conflict. Australia, Thailand, New Zealand and the Philippines also took part in the fighting on the US side.
Nguyen was seven when South Korean marines entered the villages of Phong Nhi and Phong Nhut on February 12, 1968. More than 70 villagers were killed, shot or stabbed to death with bayonets. Nguyen was shot in the stomach but survived, along with her brother and 18 other villagers. Five of their family members did not.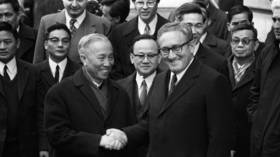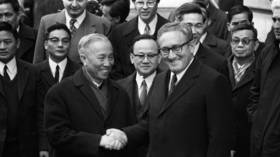 Read more
50 years after leaving Vietnam, the US keeps getting involved in wars without understanding them
The government's lawyers argued that there was not enough evidence to prove the massacre, and that the operation itself was unfortunate but not illegal, claiming there were Viet Cong guerrillas in the villages. They also tried to invoke the statute of limitations.
However, one of the former members of the Second Marines, Ryu Jin-seong – now 76 – testified at the trial and endorsed Nguyen's account of events. So did the declassified US military documents. American marines stationed in nearby Dien Ban heard the gunshots and saw the smoke from the torched homes in Phong Nhi and Phong Nhut. They helped some of the wounded and took photos of the dead in Phong Ni, which wound up as evidence during the trial.
A month after the events of Phong Nhi and Phong Nhut, another American unit would kill hundreds of Vietnamese civilians in the village of My Lai.
Close to 3.5 million people in Vietnam – as well as the neighboring Laos and Cambodia – died during the two decades of conflict that began with the partition of 1955. The US went from financially propping up South Vietnam to open military intervention in 1964, only to withdraw in 1972. The government in Saigon surrendered three years later. (RT)
Azərbaycan24 sosial şəbəkələrdə