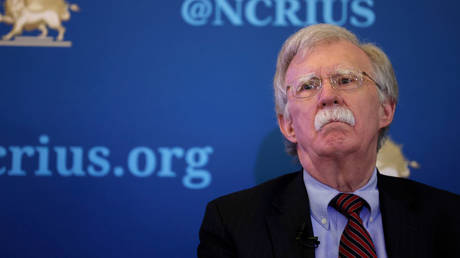 John Bolton has argued that the former president would "almost certainly" withdraw from the Western military bloc if elected again Former US national security advisor John Bolton speaks at an anti-Iran conference last year in Washington. © Getty Images / Anna Moneymaker
Former US President Donald Trump will likely withdraw the world's biggest military superpower from NATO if he wins the 2024 election, ex-White House aide John Bolton has claimed.
"In a second Trump term, we'd almost certainly withdraw from NATO," the former US national security advisor said on Thursday in an interview with US media outlet NewsNation. Bolton was ousted as Trump's top national security aide in September 2019, after failing to persuade the president to launch regime-change wars in Iran and North Korea.
Bolton — a notorious war hawk who also has pushed for regime changes in Cuba, Libya, Venezuela, Syria and Yemen – argued that Trump has an "erratic" and ineffective approach to national security. "Donald Trump doesn't really have a philosophy as we understand it in political terms," the ex-advisor said. "He doesn't think in policy directions when he makes decisions, certainly in the national security space. It's all connected with how things benefit Donald Trump."
Despite being indicted three times on criminal charges in the past four months, Trump is polling as the top candidate for the Republican Party's 2024 presidential nomination. He and President Joe Biden are currently tied at 43% voter support in a hypothetical rematch of their 2020 battle, according to a New York Times poll released this week.
Biden has led NATO and other US allies in imposing sanctions on Russia over the Ukraine conflict and supplying billions of dollars' worth of weapons to Kiev. Trump has claimed that if elected again, he would end the bloodshed in 24 hours by forcing Russian and Ukrainian leaders to the negotiating table.
Bolton called Trump's agreement with the Taliban to withdraw US troops from Afghanistan a "disastrous mistake for America and for national security in the world." He also faulted the then-president for failing to "squeeze the Iranians" after quitting the Iran nuclear deal in 2018. "He did not deal with the threat of terrorism from Iran effectively."
(RT)
Azərbaycan24 sosial şəbəkələrdə