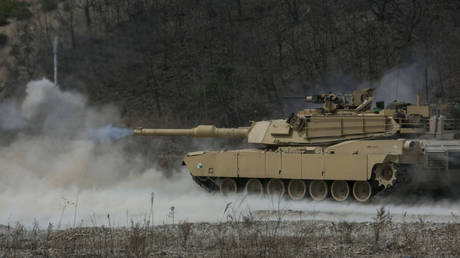 The new plan will bring the 70-ton tanks into action "as quickly as possible," the Pentagon said FILE PHOTO: A US Marine Corps M1A1 Abrams tank fires on a target during an attack drill in South Korea, March 17, 2016. © US Marine Corps / Lance Cpl. Sean M. Evans
The US military will accelerate its shipment of M1 Abrams battle tanks to Ukrainian forces, opting to send an older model after finding that the latest version could take more than a year to reach the battlefield.
Speaking to reporters for a press briefing on Tuesday, Pentagon spokesman Pat Ryder said that while the military initially planned to send the tank's newer M1A2 variant, it would now supply the previous M1A1 model in order to "significantly expedite delivery timelines."
"It will … give Ukraine a very similar capability to the M1A2, which includes advanced armor and weapons systems," Ryder said, stressing that the decision "is about getting this important combat capability into the hands of the Ukrainians sooner rather than later."
Asked about the Pentagon's original timetable for the Abrams, the spokesman said deliveries were first slated to take "over a year," but the military now hopes to start shipments before the end of 2023.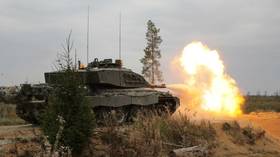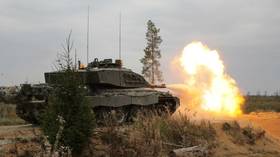 The tanks will be outfitted with "refurbished" hulls taken from US inventories, Ryder added, going on to predict that the cost of the procedure wouldn't go "very much beyond" $400 million.
While President Joe Biden initially said he would not authorize the Abrams for Ukraine, his administration reversed course earlier this year after Germany agreed to send its own Leopard battle tanks, now pledging to transfer 31 M1A1 models.
Ryder's announcement came just one day after Washington unveiled its latest $350 million weapons package for Kiev, including ammunition for US-made howitzers and the HIMARS multi-launch rocket platform, anti-armor systems, mortars and high-speed anti-radiation missiles (HARMs), among other gear. The new aid brought total American military assistance to Ukraine to some $32.5 billion since the conflict with Russia kicked off last year.
Moscow has repeatedly urged against foreign arms shipments to Kiev, saying they would do nothing to deter its military aims and only make a negotiated settlement more difficult. Earlier on Tuesday, President Vladimir Putin offered a stern warning to the British government after it said it would provide depleted uranium munitions to Ukraine, saying Russia would be "forced to react accordingly." Asked if the United States was currently supplying similar DU weapons – which contain highly toxic radioactive material – Ryder said "not to my knowledge," after officials previously declined to provide an answer and refused to discuss the "technical specifics" of US arms. (RT)
Azərbaycan24 sosial şəbəkələrdə