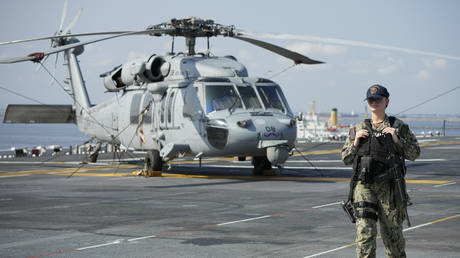 Beijing said countries in the Asia-Pacific must not allow themselves to be "coerced or used" by Washington A member of the US Navy is seen onboard an amphibious assault ship during a scheduled port visit in Manila, Philippines, March 21, 2023. © AP / Aaron Favila
The United States is set to build four new military bases "scattered" around the Philippines, President Ferdinand Marcos Jr. said, noting that at least one facility would be placed near a disputed island chain claimed by China and several other nations.
Speaking to reporters on Wednesday, the Philippine leader offered additional details about the new installations, which were first unveiled last month as part of the Enhanced Defense Cooperation Agreement (EDCA) with Washington. However, he said he could not reveal their exact location until a formal announcement is made alongside the US.
"There are four extra sites scattered around the Philippines – there are some in the north, there are some around Palawan, there are some further south," he said, adding that the bases would help to defend the country's largest island, Luzon.
Palawan is one of the Philippines' westernmost regions, and is situated around 200 miles (320 kilometers) east of the disputed Spratly archipelago in the South China Sea, which is also known by several other local names. Six countries have laid claim to parts of the small island chain, among them China, Taiwan, Vietnam, Malaysia, Brunei as well as the Philippines, though US officials have repeatedly rejected Beijing's claims as "unlawful."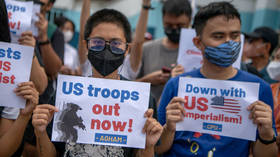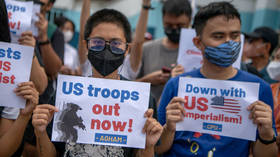 American bases on Luzon, meanwhile, are likely to be built with Taiwan in mind given its close proximity to the self-governing island, which China considers part of its sovereign territory. Though Washington had long maintained a policy of "strategic ambiguity" toward Taipei, President Joe Biden has broken with that approach, explicitly stating that US forces would come to Taiwan's defense in the event of a Chinese attack.
Asked about the plans for the new bases during a Wednesday press briefing, Chinese Foreign Ministry spokesman Wang Wenbin argued that military cooperation between countries should be "conducive to regional peace and stability and not targeted at or harmful to the interests of any third party."
"The US side, out of selfish interests, remains trapped in a zero-sum mentality and keeps increasing military deployment in the Asia-Pacific," he said, adding that "Regional countries need to remain vigilant and avoid being coerced or used by the US."
President Marcos went on to warn of a "complex" and "unpredictable" security environment in the region, saying he was aware of an "emerging threat" that would require "adjustments in our strategy" without elaborating.
Under the 2014 EDCA, the US was initially permitted to construct five military bases around the Philippines, but the pact was recently extended to four additional "strategic" sites. Washington has so far spent $82 million on the original five facilities, and continues to work on bases that will eventually host rotating troop deployments.
(RT)
Azərbaycan24 sosial şəbəkələrdə