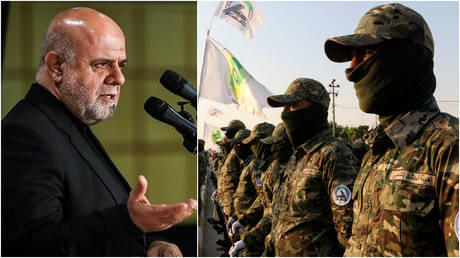 Washington has added the Iranian ambassador to Iraq to its sanctions blacklist, claiming he works for an elite military unit it has deemed a terrorist cell, as well as three groups it accused of "sowing discord" in the 2020 race.
Sanctions were announced for Ambassador Iraj Masjedi on Thursday, with the US Treasury Department deeming him a "long-running threat to Iraqi security" and citing his alleged role in training militia groups in Iraq with Iran's Revolutionary Guards Corps (IRGC) – designated a terrorist organization by the US last year.
"In his decades of service with the group, Masjedi has overseen a program of training and support to Iraqi militia groups, and he has directed or supported groups that are responsible for attacks that have killed and wounded US and coalition forces in Iraq," the department said in a statement, adding that the envoy "has exploited his position as the Iranian regime's ambassador in Iraq to obfuscate financial transfers conducted for the benefit" of the IRGC and its external wing, the Quds Force.
Also on rt.com Iran sent fake 'Proud Boys' emails to intimidate American voters & 'damage President Trump,' US spy chief and FBI director claim
Masjedi was appointed ambassador in 2017, after serving in the IRGC for some 35 years. A veteran of the Iran-Iraq war, he later worked as a close adviser to Quds Force commander Qassem Soleimani, who was killed in a US assassination strike in January. Following Soleimani's death, Masjedi took on some of his former duties in overseeing Iraq's Shia militia groups – known as the Popular Mobilization Forces – who have played a salient role in beating back the Islamic State.
Though President Donald Trump has unleashed a barrage of sanctions on the Islamic Republic since taking office, including on Iranian leader Ayatollah Ali Khamenei and Foreign Minister Javad Zarif, penalties for diplomats are somewhat rare, more often targeting military officials.
In Thursday's sanctions announcement, Treasury Secretary Steve Mnuchin also accused Tehran of a "destabilizing foreign agenda," including attempts to "influence US elections," beating the drum on an increasingly common talking point from the Trump administration. (RT)