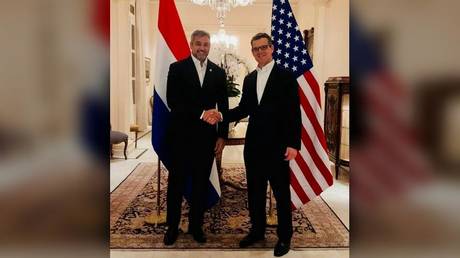 CIA deputy director's unusual visit to Paraguay comes ahead of the general election © Twitter / MaritoAbdo
Paraguayan President Mario Abdo revealed on Wednesday that he was visited by Deputy CIA Director David Cohen to discuss "national security" matters. Paraguay is one of just 13 countries in the world that recognize Taiwan as "Republic of China" and the upcoming election may put that policy to the test.
"We received a visit from David Cohen, deputy director of the US CIA, with whom we discussed strengthening cooperation between our countries in matters of national security," Abdo tweeted on Wednesday, with a photo of himself and Cohen shaking hands.
The US embassy in Asuncion confirmed the meeting, saying it "took place within the framework of robust bilateral cooperation" between the two countries, and addressed "shared strategies for combating global threats."
Abdo's meeting with Cohen was just one in a flurry of US-Paraguay contacts at the highest level this week. Paraguayan Foreign Minister Julio Arriola was in Washington on Monday, and met with US Secretary of State Antony Blinken. Abdo himself flew out to the US on Tuesday.
Located between Argentina and Brazil, with a population of just seven million, Paraguay rarely receives this much attention from Washington. However, Reuters noted that the upcoming election "could determine the country's diplomatic ties with Taiwan and China."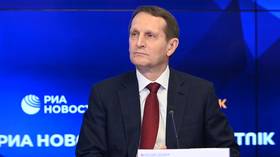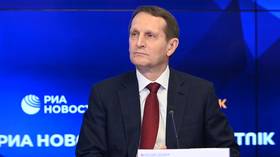 Paraguay is one of only 13 countries in the world, and the only one in South America, to recognize Taiwan as the "Republic of China" and exchange embassies with Taipei.
Paraguay's general elections are scheduled for April 30. Abdo is not eligible for re-election, but his Colorado Party hopes to stay in power. Its candidate, Santiago Pena, has recently slipped in the polls against the Authentic Radical Liberal (PLRA) challenger Efrain Alegre, however.
The US Treasury Department has recently imposed sanctions against Abdo's predecessor Horacio Cartes and the current vice-president Hugo Velazquez, accusing them of "significant" corruption. Both have denied all allegations. (RT)
Azərbaycan24 sosial şəbəkələrdə