Washington will "demonize" anyone who does not "dance to their tune," the Russian Foreign Ministry has said
America's reaction to the Chinese air balloon was "impulsive" and over-the-top, Russian Foreign Ministry spokeswoman Maria Zakharova said on Tuesday. The US shot down what it called a "spy balloon" last week, though China insists it was only a weather device.
"We assume that the Chinese side's explanations of [the incident] are sufficient and clear," Zakharova said at a briefing on Tuesday.
She added that Beijing's response in this "nontrivial situation" was "responsible" in contrast with the sensationalist response of the US government and media.
"Washington and the American media's impulsive reaction can't be described as anything other than hysterical." she said, adding that the US continues to use "contrived reasons, or none at all, in order to slander and demonize countries who refuse to dance to their tune."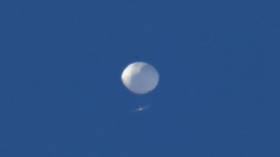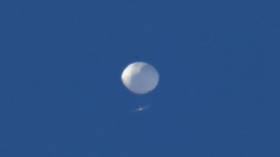 A Chinese unmanned airship was spotted flying over Alaska, parts of Canada, and then across the continental United States last week. On Thursday, the Pentagon said it was "most certainly launched by China" for the purpose of gathering intelligence, with the media calling it a "spy balloon." US Secretary of State Antony Blinken indefinitely postponed his planned visit to China on Friday.
Blinken called the situation "a clear violation of US sovereignty and international law that undermined the purpose of the trip," in a phone call with China's director of the Central Foreign Affairs Office, Wang Yi.
Chinese Foreign Ministry spokeswoman Mao Ning said on Saturday that the incident was an "unintended entry" of a civilian meteorological research airship caused by force majeure. The diplomat claimed that Beijing had verified and communicated the balloon's civilian nature to the US side. The spokeswoman added that "Some politicians and media in the US have hyped [the incident] up to attack and smear China."
On Saturday, the Pentagon sent an F-22 fighter jet to "safely shoot down" the balloon after it drifted out over the Atlantic Ocean. (RT)
Azərbaycan24 sosial şəbəkələrdə