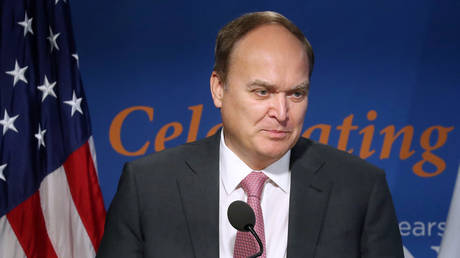 The American public is starved of accurate information on issues such as the Nord Stream attacks and Bucha, Anatoly Antonov has said Russian Ambassador to the United States Anatoly Antonov © © AFP / Getty Images / Mark Wilson
The US public is being deprived of access to unbiased and truthful information, despite being "prepared and eager" to receive it, Russian Ambassador Anatoly Antonov said in an interview published by Newsweek on Wednesday.
The diplomat argued that underlying problems in the US media landscape have become particularly evident during the Ukraine conflict. While claims made by Kiev are routinely taken at face value, Moscow's position has been silenced and dismissed as "Kremlin propaganda," Antonov said.
"The truth faces an exceedingly thorny path in reaching the US audience. Nevertheless, the American public is prepared and even eager for an unbiased analysis of the facts," according to the envoy.
He noted that allegations of the "kidnapping" of Ukrainian children by Russia have been widely shared in the West, and that Russian Foreign Minister Sergey Lavrov faced a barrage of questions on the subject at a recent press conference during the UN General Assembly.
In reality, the kidnapping claims appear to be "shaped more by propaganda sp
"We have nothing to hide in this regard. We are open and prepared for a constructive dialogue on this pressing issue," the envoy added, reiterating that Russia readily reunites evacuated Ukrainian children with their legal guardians when the necessary requests are received.
At the same time, Antonov commended a recent article by the New York Times, which cast doubt on the Ukrainian account of a missile strike on the town of Konstantinovka in which at least 15 civilians were killed and around 30 others injured.
"The publication of such articles gives us hope that not all is lost, and that US media still uphold journalistic ethics. Professional correspondents, of whom there are many in the United States, seem to have the desire to delve deeper into various issues," Antonov said.
He expressed hope that similar articles would investigative incidents such as the alleged massacre in Bucha, where Russia has "clear evidence that it was entirely staged" by Ukraine, according to the envoy.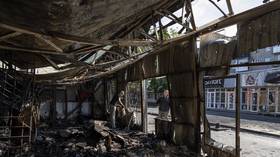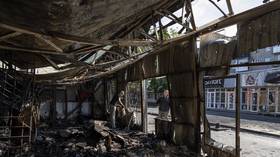 Antonov cited "the terrorist attacks" on the Nord Stream gas pipelines as another area that requires the attention of investigative journalists, as well as the West's narrative surrounding the alleged poisonings of Sergey Skripal and Alexey Navalny.
"The lack of such articles in the local information landscape is starkly evident. We are ready to contribute to changing this situation for the better," Antonov added.
The Russian Embassy and the country as a whole have "much to share" with the Americans, the diplomat said, insisting that it has no shortage of media professionals who "are both knowledgeable and passionate about their work."
"It is evident how challenging it is for veracious information – including for the materials provided by the Embassy – to reach the readers," Antonov added.
The full article by Antonov, 'Taking on the battle against misinformation about the situation in Ukraine' is available on the Russian Embassy's website. (RT)
Azərbaycan24 sosial şəbəkələrdə