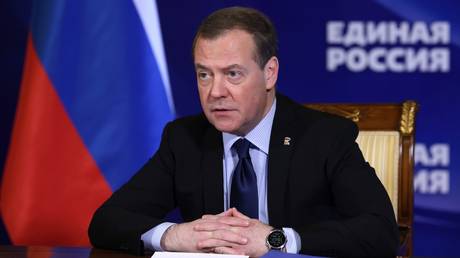 Dmitry Medvedev revealed his view of what caused the Ukraine conflict and his country's international priorities FILE PHOTO. Deputy head of Russia's Security Council Dmitry Medvedev © Sputnik/Ekaterina Shtukina
The US and its allies almost ignited a third world war by preparing to attack Russia, which had no choice but to do something about it, former president Dmitry Medvedev said on Monday, addressing the leadership of the ruling United Russia party in Moscow.
"Our party should help the people around the world understand that the ongoing special operation was a forced and last-resort response to preparations for aggression by the US and its satellites," Medvedev said.
"It is obvious that the world came close to the threat of WWIII because of what was happening," he added.
Medvedev also described a "serious crisis" at the UN and other international institutions, which were created to resolve international disputes but have been turned into a battlefield by the West instead.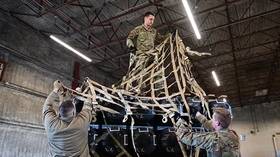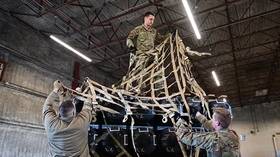 Read more
West 'definitely' taking part in Ukraine conflict – Kremlin
"Our opponents are trying to enlist as many votes as possible in support of their anti-Russian initiatives, using underhanded means such as economic pressure, extortion and political bribery," Medvedev said, adding that the main mission of Russian diplomacy remained countering this "cynical line" by the West.
Medvedev was president of Russia between 2008 and 2012, when he became the chairman of the ruling party and prime minister. He stepped down as PM in 2020 to run the national security council.
Though the West considered him a "liberal" during his presidency, Medvedev has been blunt and outspoken about the special military operation in Ukraine since it was launched in February 2022. Just last week, he ridiculed the World Economic Forum in Davos and warned the West that the current conflict is existential in nature for Russia, which should be kept in mind when it comes to nuclear weapons and their possible use.
Russia sent troops into Ukraine in February 2022, citing Kiev's failure to implement the Minsk agreements, designed to give the regions of Donetsk and Lugansk special status within the Ukrainian state. The protocols, brokered by Germany and France, were first signed in 2014. Former Ukrainian president Pyotr Poroshenko has since admitted that Kiev's main goal was to use the ceasefire to buy time and "create powerful armed forces."
The Kremlin recognized the Donbass republics as independent states and demanded that Ukraine officially declare itself a neutral country that will never join any Western military bloc. Kiev insists the Russian offensive was completely unprovoked. (RT)
Azərbaycan24 sosial şəbəkələrdə