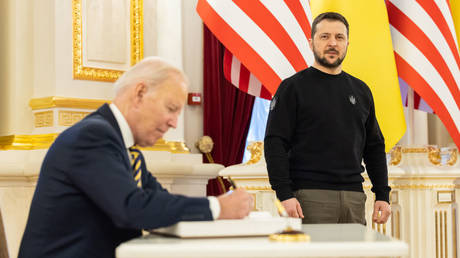 Washington has reportedly pushed back against efforts by allies to give Kiev a clear path to joining the Western military bloc US President Joe Biden signs a guestbook during his February 20 visit with Ukrainian President Vladimir Zelensky in Kiev. © Ukrainian Presidential Press Office via Getty Images
US President Joe Biden's administration has reportedly opposed efforts by some European allies to give Ukraine a clear "roadmap" for joining NATO, urging partners to focus on providing short-term aid to Kiev.
The US is siding with Germany and Hungary in resisting efforts from such allies as Poland and the Baltic states to offer Ukraine deeper ties with NATO and clear support for its future membership in the Western military bloc, the Financial Times reported on Wednesday, citing four unidentified officials involved in the negotiations.
The issue has been under debate this week at a meeting of NATO foreign ministers in Brussels, where alliance members are trying to lay the groundwork for the bloc's leaders' summit, which is scheduled for July in Vilnius, Lithuania. Although NATO's 31 members agree that membership can't be offered to Ukraine in the short term – nor can it be seriously discussed amid the former Soviet republic's current conflict with Russia – this week's talks have exposed a clear divide over the group's vision for Kiev's postwar status, the FT said.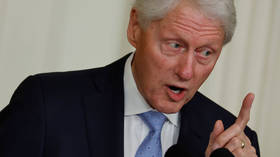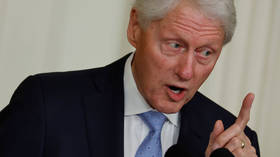 Ukrainian President Vladimir Zelensky has warned that he will only attend the summit in Vilnius if he's offered clear steps for Kiev's ascension to NATO, such as security guarantees and deeper collaboration with the alliance. Bloc members agreed in 2008 that Ukraine would be allowed to join NATO at some point. Back then, the US was pushing for giving Kiev a clear timetable and an action plan for membership, the FT said, but France and Germany resisted on concerns that such a step would provoke Russia.
Diplomats attending this week's talks haven't been able to reach agreement on what Ukraine should be offered in a freshened statement on its NATO prospects. "We've got several weeks of hard negotiations ahead to close those gaps and craft a political outcome," one official said. However, another noted, "The road [to Vilnius] is rocky."
Washington is concerned that deepening the alliance's ties with Ukraine at this juncture would feed into Russian claims that the current crisis is a conflict between Moscow and NATO, the FT said. It also might spur Russia to escalate the conflict, possibly by deploying nuclear weapons.
Russian officials have claimed that the US and its NATO allies promised after the Soviet Union's collapse not to expand the bloc into Eastern Europe. Since then, the alliance has added 15 new members, all of which were former Soviet republics or part of Warsaw Pact nations. (RT)
Azərbaycan24 sosial şəbəkələrdə