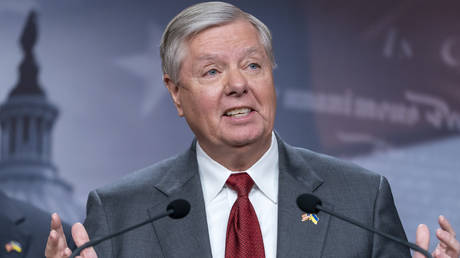 Senator Lindsey Graham declared that he would "fight for" the island because it's "a democracy" Lindsey Graham speaks during a news conference on Capitol Hill in Washington, DC, January 24, 2023 © AP / Jacquelyn Martin
US Senator Lindsey Graham has declared that he would support a formal defense alliance with Taiwan and would send US troops to fight a hypothetical Chinese invasion. Graham, one of the most hawkish Republicans in Congress, claimed that defending Taiwan is in the US' national security interest.
Speaking to Fox News on Sunday, the Republican lawmaker claimed that the US policy of "strategic ambiguity" on Taiwan – under which Washington recognizes, but does not endorse, China's sovereignty over the island – is not working, and should be replaced with a formal defense agreement.
"So the question for the Congress, should we have a defense agreement with the island of Taiwan?" he asked. "I'd be very much open to using US forces to defend Taiwan, because it's in our national security interest to do so.
"I believe in a One China policy, but I would be willing to fight for Taiwan because Taiwan is a democracy," he continued, later adding that the US has an economic incentive to fight China over the island. "90% of the high-end chips are made in Taiwan," he said. "[China] would have a monopoly on the digital economy."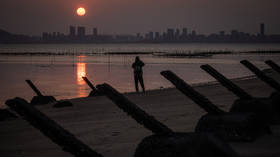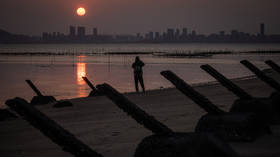 Read more
China's claim on Taiwan is 'Communist delusion' – Ukraine
Graham said he would support the sale of US-made fighter jets to Taipei, and would back the movement of "war forces to South Korea and Japan."
There are currently several dozen US troops stationed in Taiwan, and the Wall Street Journal reported in February that Washington plans to increase this number to between 100 and 200.
Graham's position on Taiwan is hawkish, but in line with that of a growing number of both Democrats and Republicans. House Speaker Kevin McCarthy met with Taiwanese President Tsai Ing-wen in California on Wednesday. Meanwhile, during a visit to Taipei on Friday, House Foreign Affairs Committee Chairman Michael McCaul told Fox News that Congress would authorize military action against China in the event of an invasion of Taiwan.
McCarthy's predecessor, Nancy Pelosi, flew to Taipei last summer to meet with President Tsai. Defying calls from Beijing, US President Joe Biden did not intervene to stop Pelosi's trip, and the president suggested on several occasions that he would use military force to deter any attempts by China to invade the island.
In a policy paper released last August, Beijing stated that it would strive for a peaceful reunification with Taiwan but would not renounce the use of force to achieve this goal if necessary. Beijing responded to Tsai's visit to California by launching simulated strikes on Taiwan on Sunday.
Graham is a longtime advocate of military intervention and regime change, and called last year for the assassination of Russian President Vladimir Putin. (RT)
Azərbaycan24 sosial şəbəkələrdə