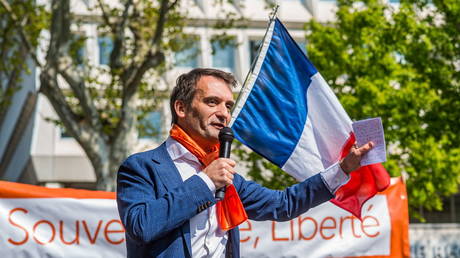 Norway also had a profit motive to join the alleged American plot, Florian Philippot has said FILE PHOTO: Florian Philippot during a rally. © Robert DEYRAIL / Gamma-Rapho via Getty Images
French party leader Florian Philippot believes it has long been obvious that the United States was behind last year's sabotage of the Nord Stream pipelines, which were built to deliver Russian natural gas to Western Europe.
"Even before the war in Ukraine, the US for years fought against Nord Stream, it was a permanent part of their policy," he told RIA Novosti in an interview published on Friday.
"In early February 2022, [US President Joe] Biden said the Americans could make it so that the pipeline was no more. That's what happened. And it was in the interest of the Americans," according to Philippot, who heads the right-wing 'The Patriots' party in France.
Last month, veteran investigative journalist Seymour Hersh reported that Biden personally ordered the bombing of the pipelines, and that Norway assisted in the sabotage. He cited an unnamed source and supported his case using some of the same arguments as Philippot.
Biden remarked that "there will be no longer a Nord Stream 2" during a joint press conference with German Chancellor Olaf Scholz in early February 2022. Hersh also claimed that Biden allowed US special services to classify the operation in a way that justified not informing the US Congress about it beforehand.
Nord Stream 2 is the name of the second, newer pipeline, which was meant to greatly expand the capacity of the original Nord Stream, but was never operational. Both were disabled by sabotage.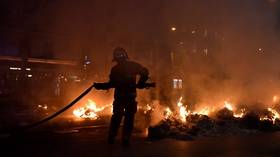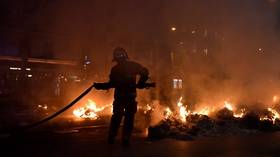 Read more
Riots erupt after Macron raises retirement age
Philippot said he considered US culpability "obvious" even before Hersh's revelations, but was not sure about Norway's role. He reasoned that Oslo had a motive since it "competes with Russia in gas trade, and many European nations replaced the Russian gas with Norwegian." Both the US and Norway have denied any responsibility.
Philippot also urged France to leave NATO, saying the military alliance "needs to be disbanded because it has no reason to exist."
"We have to stop this agenda of world war against Russia and China, it is absolutely insane," he told the Russian news outlet, blaming the US for increasing global tensions.
He also called French President Emmanuel Macron a deceitful leader. His government "prioritizes the US, and not its own people," Philippot stated.
He cited Macron's decision to send billions of dollars worth of weapons and ammunition to Kiev, even as he is pushing through an unpopular pension reform, claiming a lack of money to fund social programs. (RT)
Azərbaycan24 sosial şəbəkələrdə