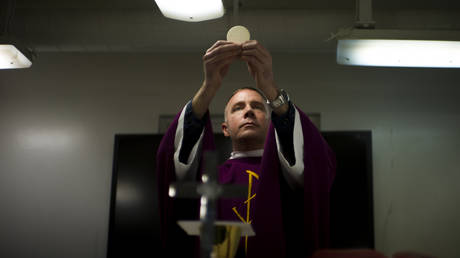 Recruiting chaplains to connect with young sailors might be a good way to improve mental health without any social stigma Navy Chaplain Lt. Cmdr. Ben Garrett performs the sacrament of the Eucharist on the USS Bataan at Norfolk Naval Station @ Associated Press
The US Navy plans to deploy more chaplains as regular members of crew aboard ships in an effort to tackle growing mental health distress, which has led to a spate of suicides, the Associated Press reported on Thursday.
The Navy plans to have 47 chaplains aboard ships based at Naval Station Norfolk, Virginia, within the next two years — up from 37, currently.
The chaplains deployed are both naval officers and clergy from various denominations, AP said, but have routinely only been employed on the largest aircraft carriers – with up to 5,000 personnel.
The goal, according to the outlet, is for the clergy to "connect with sailors, believers and non-believers alike, in complete confidentiality," noting that the approach has led to several cases in which chaplains were able "to talk sailors out of suicidal crises."
The Navy reported a total of 70 suicides in 2022 alone – the second highest annual number in over a decade, according to military data.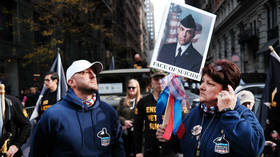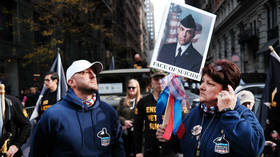 Read more
US veteran suicides far higher than reported – study
Asked in January what issue kept him up at night, Chief of Naval Operations Adm. Michael Gilday answered "suicides." The mental health issue, he said, was a "vexing problem" for the Navy.
Family members of two young men who died by suicide in Norfolk said having chaplains available to talk could facilitate access to mental health care "without stigma or retaliation." At the same time, there must be accountability and "a chain of command committed to eliminating bullying and engaging younger generations," they said, according to AP.
One challenge for sailors is that most communication is off-limits while at sea for security reasons, "lest a Russian frigate show up while you're texting mom," Capt. David Thames, an Episcopal priest who manages chaplains for the Navy's surface fleet in the Atlantic, explained.
Gilday named so-called "Adjustment disorder" as the most common mental health diagnosis among sailors during a Wednesday budget hearing at the House Appropriations Committee's defense subcommittee. Investing in chaplains can help "separate life stress from mental illness" and get the right care for sailors, he said. (RT)
Azərbaycan24 sosial şəbəkələrdə