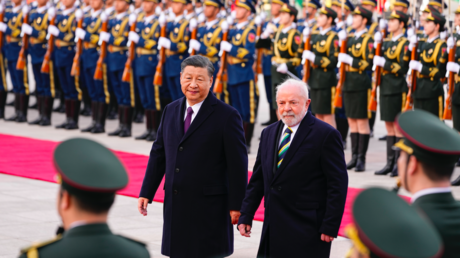 The Brazilian leader delivered the comments as he concluded a state visit to China Brazilian President Luiz Inacio Lula da Silva (R) inspects an honor guard with Chinese President Xi Jinping during a welcome ceremony held outside the Great Hall of the People on April 14, 2023 in Beijing, China © Getty Images / Ken Ishii,-Pool/Getty Images
The United States and its allies should focus on promoting peace in Ukraine instead of "encouraging war" by arming Kiev, Brazilian President Lula da Silva said on Saturday as he concluded a state visit to China, his country's primary trading partner.
"The United States needs to stop encouraging war and start talking about peace," Lula told reporters in Beijing. "The European Union needs to start talking about peace."
He added that, in doing so, world leaders might be able to "convince" both Russian President Vladimir Putin and his Ukrainian counterpart Vladimir Zelensky that "peace is in the interest of the whole world."
In contrast to many Western nations, neither Brazil nor China has imposed sanctions on Moscow following the onset of the conflict in Ukraine last year.
Prior to the trip, Lula, the left-wing leader who returned as Brazilian president last year after succeeding Jair Bolsonaro, had sought to position himself as part of a group that could mediate in the conflict. He did not, however, elaborate on the nature of any such talks with Chinese President Xi Jinping following their meeting on Friday.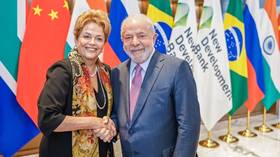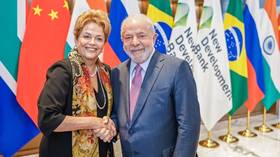 Read more
Brazil calls for 'move away' from dollar
CNN reported earlier this week that Beijing had requested the removal of issues surrounding Ukraine from the list of topics to be discussed by the two leaders.
"It is important to have patience," Lula suggested on Saturday, "But above all, it is necessary to convince the countries that are supplying weapons, encouraging the war, to stop."
China has been a key trading partner for Brazil since 2009. In 2022 alone, Beijing imported close to $90 billion worth of Brazilian commodities such as soy, iron ore and petrol. Brazil is also the largest single market for Chinese products on the South American continent.
Lula's comments on Ukraine, as well as the strengthening of economic ties with Beijing, are likely to draw the attention of Washington, with whom Brasilia has sought a closer relationship under his rule. In February, he met with US President Joe Biden in the White House, where they primarily discussed efforts to combat climate change and combat anti-democratic extremism. (RT)
Azərbaycan24 sosial şəbəkələrdə