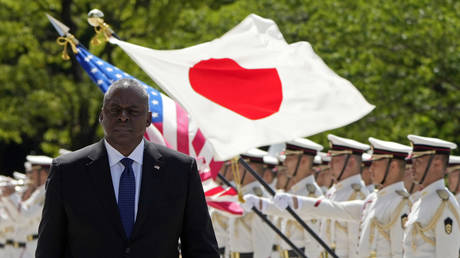 Ties between Tokyo and Washington need to be strengthened further, Japanese Defense Minister Yasukazu Hamada says US Secretary of Defense Lloyd Austin reviews a guard of honor at the Japanese Defense ministry in Tokyo. © AFP / Franck Robichon
Japan and the US are in discussions on joining forces to develop interceptors capable of shooting down hypersonic weapons, Japanese Defense Minister Yasukazu Hamada has said.
Hamada made the announcement at a press conference after talks with US Defense Secretary Lloyd Austin in Tokyo on Thursday.
"Regarding defense equipment and technology cooperation, we've agreed to deepen cooperation and to advance discussions on unmanned aerial vehicles as well as the possibility of joint development in the future of an interceptor to counter hypersonic technology," he said.
Japan and the US will "cooperate more than ever" in view of continued missile tests by North Korea, Russia's military operation in Ukraine and challenges posed by China, Hamada stressed. He also suggested that both Tokyo and Washington further improve their ties with South Korea.
Austin confirmed that the US and Japan were "working together on advanced technologies including hypersonics, autonomous systems for teaming with fighter jets and advanced air defense systems."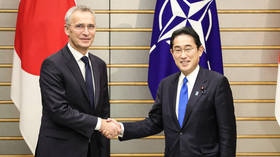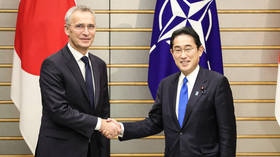 The allies have been increasing cooperation between their defense supply chains and industrial bases, he said.
According to Austin, Washington and Tokyo have already "made impressive progress together," but the alliance will need to be stronger in future.
Analysts, including in the West, have said the US and its allies are behind Russia and China when it comes to hypersonic weapons, which are believed to be beyond the reach of existing defense systems due to their extreme speed and high maneuverability.
Washington is only at the testing phase for such technology, with the latest launch as part of the Air-launched Rapid Response Weapon (ARRW) program in late March ending in what an Air Force spokesperson described as "not a success."
Russia has developed several hypersonic systems for its military in recent years, including the Avangard glider, which is fitted on silo-based ICBMs, and Zircon missiles, to be used by the Navy, as well as air-launched Kinzhal hypersonic missiles.
Moscow has occasionally deployed Kinzhals in the conflict in Ukraine since last March. Russia's Defense Ministry said in mid-May that it used the hypersonic missile to deliver significant damage to a US-supplied Patriot air defense system stationed in Kiev. (RT)
Azərbaycan24 sosial şəbəkələrdə