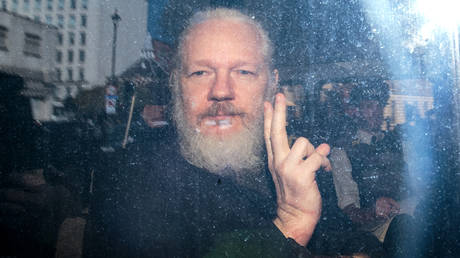 WikiLeaks founder Julian Assange continues to fight extradition to the United States to face espionage charges Julian Assange gestures to the media from a police vehicle on his arrival at Westminster Magistrates court on April 11, 2019 in London, England © Getty Images / Jack Taylor/Getty Images
Caroline Kennedy, the United States' ambassador to Australia, has indicated that the US Justice Department may consider seeking a plea deal with WikiLeaks founder Julian Assange that could downgrade his charges and allow him to return to his homeland.
Assange, 52, faces a potential life sentence in a US prison on espionage charges linked to the 2010 release on his WikiLeaks platform of highly sensitive US Army intelligence information provided to him by former analyst Chelsea Manning.
But speaking to the Sydney Morning Herald in comments published on Sunday, Kennedy said that a diplomatic remedy to the long-running Assange saga might be forthcoming, telling the newspaper, "There absolutely could be a resolution."
When asked if the United States could arrange for a plea deal involving Assange, Kennedy said that this was "up to the Justice Department."
While there has been no official comment on the issue from the relevant US authorities, a plea deal could theoretically be sought, which would see Australian native Assange agreeing to plead guilty to lesser charges in return for being permitted to return home to serve any remaining prison time.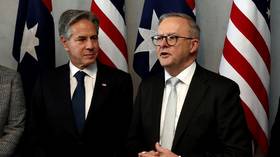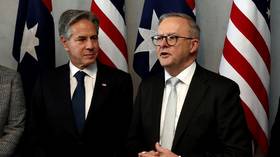 Read more
Australian PM condemns US prosecution of Assange
Assange has been held in London's Belmarsh Prison since 2019 as he fights extradition to the United States. Previously, Assange had been granted political asylum by Ecuador's embassy in London since 2012, before his arrest seven years later.
"Caroline Kennedy wouldn't be saying these things if they didn't want a way out," Assange's brother, Gabriel Shipton, told the Sydney Morning Herald. "The Americans want this off their plate."
According to international law expert Donald Rothwell, the terms of any Assange plea deal would likely require him to first travel to the United States to formally admit guilt in court proceedings.
"Everything we know about Julian Assange suggests this would be a significant sticking point for him," Rothwell told the newspaper. "It's not possible to strike a plea deal outside the relevant jurisdiction except in the most exceptional circumstances."
However, a successful plea deal would likely require authorization from US Secretary of State Antony Blinken, who said last month that Assange's actions "risked very serious harm to our national security, to the benefit of our adversaries, and put named human sources at grave risk of physical harm, grave risk of detention." (RT)
Azərbaycan24 sosial şəbəkələrdə