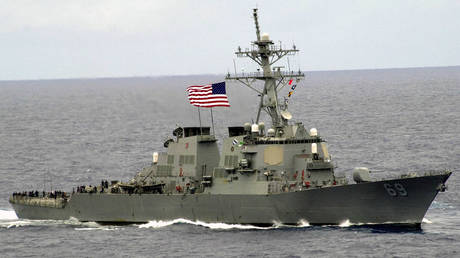 Washington has denied claims its warship was 'expelled' and says it will continue to sail in the region FILE PHOTO: USS Milius. © Wikipedia
China claims it monitored and "warned off" a US Navy destroyer, after detecting it near the Paracel Islands in the South China Sea on Thursday. This comes as tensions between Beijing and Washington in the region continue to grow.
The guided-missile destroyer USS Milius "illegally entered" into Chinese territorial waters, Senior Colonel Tian Junli, a spokesman for the country's Navy Southern Theater Command, stated in a press release. The move "has seriously jeopardized peace and stability in the South China Sea," the official added.
The incident occurred near the Paracel islands as sea and air forces tracked the US destroyer "in accordance with the law, and warned it off." Tian added that the Navy was ready to "take all necessary measures to safeguard national sovereignty, security as well as peace and stability" in the region.
The United States has denied the claim that the USS Milius was driven away by China's warnings.
The Navy's 7th Fleet spokesman, Lieutenant (junior grade) Luka Bakic, told Associated Press on the same day that the warship was "conducting routine operations in the South China Sea and was not expelled." He added that the US would "continue to fly, sail, and operate wherever international law allows."
The Paracel Islands are a disputed archipelago in the South China Sea. While de-facto governed by China, who call them the Xisha islands, they are also claimed by Vietnam and Taiwan. Washington does not recognize China's sovereignty of the islands and has called it "unlawful" and posing "a serious threat to the freedom of the seas."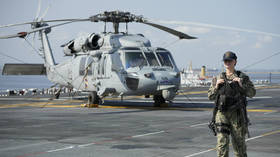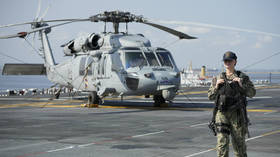 Read more
US to build new military bases near South China Sea
Similar incidents with American warships "caught trespassing" near the Paracel Islands have happened before. Destroyer USS Benfold was "warned away" from the region by the Chinese Navy twice in 2022, once in January and again in June.
In November, warship USS Chancellorsville was subject to the same treatment by Beijing, as it sailed past the Spratly Islands in the South China Sea, another disputed territory. The US Navy claimed in a press release that it was a Freedom of Navigation Operation (FONOP) that signified their "continued commitment" to defend the right to sail wherever international law allows by "challenging restrictions on innocent passage imposed by the People's Republic of China" as well as other claimants to the territory. (RT)
Azərbaycan24 sosial şəbəkələrdə